Before Spring 2011 those who lived in Madrid weren't able to enjoy the pleasures of the river that ran through it. Access to Manzanares wasn't available because of the M30 motorway. Then things changed in 2006 when work began to bury the road. Work was finally completed at the beginning of 2011. Now everybody has access to 10km of park by the river known as Madrid Rio.
When it comes to looking for things to do in Madrid, this park offers a great many activities. Here we list all the things to do at Madrid Rio, that people of all ages can enjoy.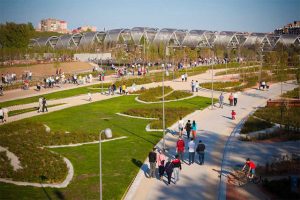 Walking
We tend to forget what a pleasure going for a walk can be whether it is alone or with someone. As well as being free it is healthy.
 Go For A Run
You have the opportunity to run right beside this Madrid river along the streambed. In fact hundreds of Madrilians' love doing this each day. Not only is running healthy but a chance to meet new people.
 Give A Segway A Go
One of the Madrid Rio activities that is becoming increasingly popular is to hire a Segway. You can explore the park without any real effort.
Activity 4 – Go For A Bike Ride
Within the park there is a total of 7km of cycle tracks you can use. There is a company in Madrid Rio where you can hire not only bikes, but also karts.
Rowing
This isn't an activity for everyone, if you want to you can. You will need to sign up to the rowing school first.
Along the river a total of 1.2 km has been put aside specifically for rowers to use.
Go To The Beach

Throughout the summer thanks to this park Madrid has its own beach.
In one area of the park there are streams and fountains that allow you to play and swim.
Plus there is an area set aside with loungers offering the perfect spot to relax and unwind.
Play Areas
No park is complete without an area that allows you to act like a child. Throughout the park there are areas where swings, slides and zip lines have been erected.
Also within the park there are numerous other areas set up where other sports can be enjoyed. There are some tennis and basketball courts, along with soccer fields. Plus there is even a skating rink. So you are sure to find somewhere to hang out with the new friends you have made during your visit to this amazing city.
Of course you'll probably get thirsty and hungry when trying out the many Madrid Rio activities on offer. But don't worry there are plenty of places you can to enjoy some amazing food and drink.