The various cultural and leisure features of Madrid attract people with all kinds of interests: fashion victims (Cibeles Fashion Week), football fans (Santiago Bernabeu football stadium), nature enthusiasts (El Retiro, Casa de campo…), art lovers (El prado)… However, the kind of person that will also fall in love with Madrid if they visit the right places and attend the right events is the bookworm (a person who has a passion for reading). This article is meant to point out everything you need to know about Madrid to have the best of times as a reader.
Major bookshops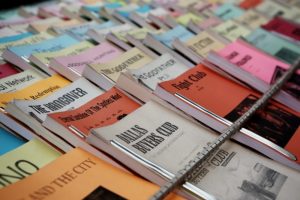 In the city, you can find a huge amount of bookshops that sell books of various types (fiction and non-fiction). We have Casa del libro, which is the most famous bookshop in Spain. It has eight establishments in Madrid and they are impressive for its beautiful disposition, the variety of books that they harbor, and the size of the building (some of them have three floors plus a cellar). Casa del Libro is involved in cultural events such as out-loud readings of literary works and creative writing courses. Other major bookshops worth visiting are Lé librería, a smaller and cozy one in Paseo de la Castellana, and Librería de Mujeres, which is specialized in topics such as feminism and gender studies.
Related article: English language books in Madrid
Second-hand bookshops
They are sometimes more difficult to find than the first ones since they tend to be not as famous but second-hand bookshops in Madrid are equally numerous and interesting. The most outstanding ones are Tik Books (six establishments in which the used and out-of-print books that they sell have a fixed price regardless of author, size or literary quality), Abi (which, apart from a second-hand bookshop, is a stationery shop), and Tuuulibrería (a one-of-a-kind bookshop). This last one strikes as something really extraordinary: it is a non-profit organization in which you take all the books you want and leave the donation that you consider is fair.
Literary events
Throughout the year, various acts related to literature take place in Madrid. The most relevant one is Madrid's book fair (27th of May to 12th of June), which reunites more than three hundred bookshops, publishing houses and distributors in El Retiro park, where they erect stands in which you can buy books with special discounts. There are also a variety of activities such as talks, out-loud readings, and games for children. There is also the fair of the independent book (22nd and 23rd of April), that allows for minor publishing houses to exhibit their books in order to become more known. The children's book lounge is also quite notable (14th of December and 3rd of January): it has activities of all kinds for more than two hundred hours and a huge variety of books for younger readers.
Related article: Top 5 Cafe-Bookshops in Madrid
Bookshops that are also coffee shops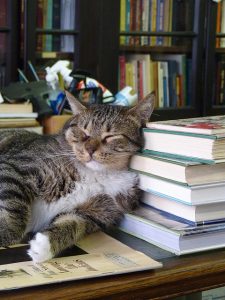 You can find various of these odd places in the city. For example, there is La Infinito (a bookshop-bar specialized in tea that offers a number of cultural activities such as storytellings and theatrical plays), El dinosaurio todavía estaba allí (you can have dinner while reading a book of some not very known author or enjoying poetry recitation), Tipos Infames (bookshop, wine shop, café, and exhibition room), and J & J Books and Coffee (all kinds of books in English).
Libraries
Libraries are easy to find in Madrid since they are numerous. There is the National Library (which has several lounges, contains an enormous variety of bibliographic material, and some of its books cannot be handled by the general public) and various others throughout the city (María Zambrano, Dámaso Alonso, Retiro, José Hierro…). Nevertheless, what might surprise the bookworm greatly are the Bibliometros: small booths full of books in some underground stations from which one can borrow books just as in a standard library.