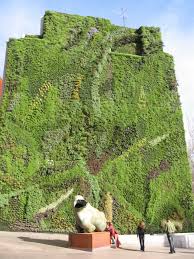 There are plenty of amazing attractions to enjoy when you visit Madrid. Along with the likes of the Prado Museum and the Reina Sofia Museum, time should be spared to visit CaixaForum.
A modern art gallery
This is a modern art gallery and socio-culutural centre. It is housed in what was originally the Mediodía Electric Power Station. This modernist industrial building was designed by Jesús Carrasco in 1899.
For many years it stood vacant and then the Spanish Bank la Caixa took it over. After its spectacular restoration by Swiss Architects Herzog & de Meuron it is now 5 times bigger. Due to its architectural importance, the original facade of the building has been retained. Ensuring yet again another piece of the city's cultural heritage has been conserved.
Within the 2,500 square meters you'll find a number of exhibition halls along with a grand auditorium. This is able to seat 310 people at any one time. Plus within it are 2 media rooms and a spacious lobby. Plus there are a number of other rooms that allow various activities to take place.
Throughout the year events such as educational programs and family workshops take place in these. Of course no museum would be complete without a bookstore and gift shop. Plus there is also a nice cafe and restaurant where you can relax.
But there is one feature that makes this particular museum instantly recognizable. That feature is its vertical garden on a wall outside, which has been crafted by the renowned French botanist Patrick Blanc.
CaixaForum Madrid, a cultural centre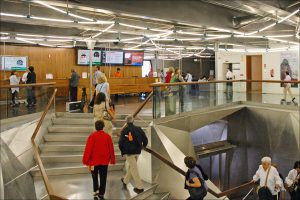 The plants of which there are more than 15,000 are able to grow on the wall due to Patrick Blanc's Le Mur Vegetal System. After a layer of polyurethane is applied to the wall, a plastic mesh along with non-biodegradable felt blanket with pockets is used. It is into these that the plants get potted. Every year replacements and new plants are placed on to the wall dependent on the season.
As the building on which the wall is located doesn't belong to the Caixa Forum additional work was carried out. This was to ensure that no moisure problems would arise. So you can imagine how long it must have taken to put this spectacular work of art (if you want to call it that) in place.
To ensure that the plants growing on the wall are well protected even during the heat of the summer a special irrigation system is used. As the water travels down pass the plants any remaining is collected at ground level. It is then recirculated back through the wall once more.
To put it in the most simplest of terms CaixaForum Madrid isn't just a cutting edge art gallery, as well as a cultural centre. It helps to provide an amazing tribute to Madrid's architectural legacy.