Warning: the following post may negatively affect your waistline. We know churros aren't the healthiest snack, but they're so delicious! No visit to Madrid would be complete without trying at least a few different types of churros with the obligatory accompanying cup of chocolate.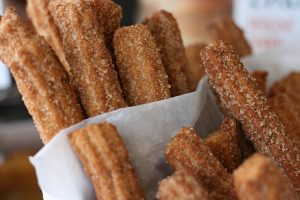 Tubes of choux pastry, piped into sizzling oil and lightly fried until crispy and golden, coated with a dusting of icing sugar. Sounds heavenly – but the best part is dipping these morsels into a cup of thick molten Spanish chocolate.  This snack is a favourite of the locals and is the most popular breakfast in the country.  The origin of churros is uncertain; whilst many believe that the Portuguese brought them to Europe from China, it is the Spanish who have perfected the recipe and made them their own.
Chocolate con churros are available all over Madrid, end every local has their favourite churros bar.  There are, however, at least three undisputed kings amongst churros purveyors, so here you have it, the top three best places to try this quintessential Spanish snack, chocolate con churros. We think you should try them all – even if your waistline doesn't thank you, your taste buds certainly will.
Chocolatería San Ginés
Without a doubt Madrid's number one stop for churros and chocolate, Chocolatería San Ginés has a reputation for providing perfection at every visit.  Locals, travelers, and celebrities alike flock to this Madrid institution, which is open 24 hours a day.  Sip your chocolate and dunk your perfect churros within the inviting art nouveau interior of marble and chrome.  The dining area looks over the open-plan kitchen, where you can see the master craftsman at work. (Pasadizo San Ginés, 5)
Chocolaterías Valor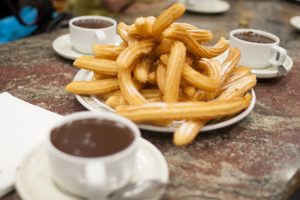 Another stalwart purveyor of chewy, crispy, and chocolatey goodness is Chocolaterías Valor, which has been in business for over 100 years.  As one would expect, churros here are crisp on the outside and deliciously fluffy in the centre, and uniquely, coated in a special cinnamon sugar.  At Valor, there is an entire menu of dunking chocolate from which to choose, ranging from intensely sweet to their 80% bitter cocoa blend.  Those having trouble deciding you can choose the chocolate tasting menu, which includes a selection of four small cups of chocolate of your choice.  (Calle Penalever, 43)
Chocolat
Chocolat is a more simple alternative to the above two heavyweight churros bars.  Simple doesn't mean your experience will be any less, in fact, the cheerful staff who handmake everything right in front of you will make you feel right at home.  The quality of the chocolate here is unsurpassed – incredibly thick, creamy and not too sweet.  There's no menu, so ask the English-speaking staff for their recommendations, and you'll not be disappointed.  (Calle Santa Maria, 30)