Madrid aemet, or the weather in Madrid is quite different than most of the other coastal regions in the country. Madrid it self is a city on a plateau beside a mountain range. Whether you live in a long term rental in Madrid or just renting a vacation apartment be sure to know the weather of your season and plan for your day's events around a local weather forecast.
Overall
On average the weather in Madrid is usually best summarized by the locals of nine months of winter and three months of hell. Of course this perception is colored by their living in the region over the long term. The three months of hell refer to the three hot months in Madrid from June to August where average temperatures can reach 30°C and during heat waves can often break 40°C. However these heat waves are temporary and generally the heat builds through June and tapers in August. In the winter months temperatures can dip below 10°C but the city rarely sees snow, although when the winds are howling down off the Sierra the windchill can feel bitterly cold. Of course spring and autumm can bring a mix of rain and sun and chill and warmth, as the seasons progress towards the next.
Tourist Season
Generally in the summer months, from June to August are considered the tourist season where Madrid season influx of visitors. However this time is also the hottest season in which to visit the capital of Spain. Madrid is the fourth hottest city in Europe during the summer months and tourists should expect heat waves that can reach 40°C. Ensuring that your vacation rental in Madrid has air-conditioning is a must if visiting during this time. Of course during the summer months most locals take their vacation in the city's businesses are generally quieter at this time, especially in August. This also means that some restaurants may be closed as well as some retail shops. Of course the secondary tour seasons include the spring and autumn when temperatures fall within normal ranges between 15 and 30°C. Although these time periods all within most children's school times many festivals are held at these times, whether is optimal, and travel rates may be a little lower due to the nonpeak period.
Cooler Months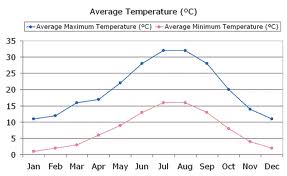 If there are any months to avoid visiting Madrid the two worst months may be January and February only because of the winter blahs that set in. With temperatures dropping to hover between 5 and 15°C, the rare snow event, and the often howling winds off of the nearby Sierra Mountains can make the visit a little on the chilly side. However if you are from northern climates that deal with significant snow events, below zero freezing temperatures and the true windchill, the Madrid winter is definitely not as bad.
Madrid Aemet provides enough variance throughout the seasons to provide a great vacation no matter what your preferences are. Whether you are looking for a flat rental or vacation rental, there is really no bad season to visit Madrid. If you like the heat come during the summer, for a mild winter January and February is your choice, and if you love spring or fall it cannot be beat in Madrid.