Changing lifestyles and developments in technology are leading consumers to increasingly do their shopping online. Internet shopping is becoming a mainstream activity in Spain and massive growth is expected in the near future, with online retail sales in Spain expected to reach €9.1 billion in 2017, equal to 18 percent annual growth, the highest anticipated growth in all of Europe.
Food shopping is no exception in the digital shopping revolution. As consumers with ever more limited free time grow further tired of the supermarket experience, a similarly large growth in internet food sales is expected.
Madrid-based startup Soysuper recognised this trend and capitalised on it by creating an online supermarket experience with a difference. Rather than browse the endless options for supermarket shopping, Soysuper aggregates the major online supermarkets in one place to make a smooth, cost-effective, and transparent shopping experience.
Soysuper combines over 100,000 products from six major supermarkets, including Carrefour, Mercadona and Eroski, into one. They hope to add all the major supermarkets in Spain to their list of clients in the future.
To use the service, the customer enters their postal code at https://soysuper.com/ and is presented with a list of the supermarkets that deliver to their address. They can then browse the products available, compare prices and offers, and make their purchase at the supermarket of their choice. The supermarket then delivers the order to their address.
CEO Marta Esteve conceived the idea due to frustrations with her own online shopping experience. The company was founded in 2012 with the support of the Area 31 incubator in Madrid. The private beta version of the service was launched in February 2013 and the full version in September 2013. The company now claims to have over 5,000 users of their service.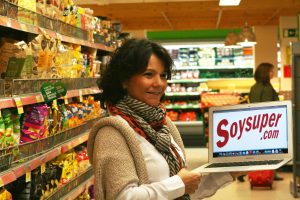 Although the emphasis of Soysuper is the user experience, the service is free for shoppers. The business model focuses on the services offered to the participating supermarkets, which include 'Soysuper Insights' market research on consumer habits, prices and product availability, advertising of their brand through 'Soysuper Visibility' and the 'Soysuper Sales' online sales service.
If you're interested in online food shopping in Madrid you may also be looking to rent a flat in Madrid. ShMadrid have apartments to rent in Madrid whatever your requirements.