By Berber Ormeling
Around six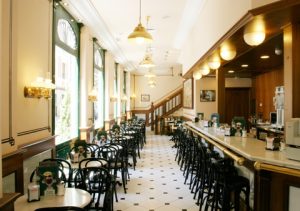 or seven o clock in the afternoon you can see them all over the city, old grannies and small children in coffee bars dipping pastry in their coffee or hot chocolate enjoying to the maximum their Spanish merienda.
This late-afternoon snack in Spain is called la merienda and is almost necessary since lunch is done around 3:30pm and dinner is not usually eaten for another five to six hours. La Merienda is especially important to children and older people who can always use some extra energy in the late afternoon.
La Merienda can be anything from a piece of French-style bread with some chocolate on top of it, to a croissant or some bread with chorizo sausage, ham or salami. It is usually eaten in between 4:30 and 7:00pm and since dinner isn't served for at least another few hours nobody is worried that this snack will ruin their appetite for dinner.
There are a few pastry places in Madrid that are famous for their high quality sweet treats and are perfect to enjoy a great Spanish merienda but you can also always go there for a delicious breakfast or after lunch coffee combined with delicious pastry.
Pastelería La Mallorquina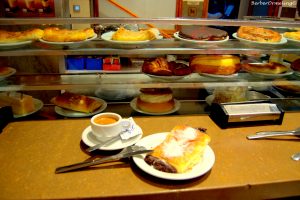 The most famous of them all is probably pastelería La Mallorquina located on the Puerta del Sol. This old pastry shop was founded by Juan Ripoll who was originally from the Balearic islands. The pastry shop was back then famous for its typical Mallorquina sweet called ensaimadas then served in Madrid with chocolate by waiters who spoke French and wore frock coats. Even nowadays everything in this pastry shop looks delicious and it depends on what you fancy, we do recommend you try the the napolitana de chocolate as it's a delicious sweet treat.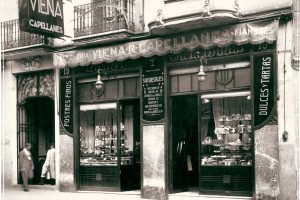 Professional pastry makers since 1873 it's hard to miss one of the coffee bars of Vienna Capellanes in Madrid. With over more than 18 different bars throughout Madrid this family has professionalised pastry making and the art of enjoying a great merienda. This pastry shop became famous for their typical "Vienna" bread in 1889 and had their first shop located on la calle Capellanes which explains the name.
Other places to enjoy a great merienda, cake or other delicious pastry in Madrid:
Pomme Sucre– Calle Barquillo, 49.
Mamá Framboise-Calle Fernando VI, 23.
Living in London– Calle Santa Engracia, 4.
Mallorca-Calle Génova, 12.
El Jardin Secreto– Calle Conde Duque, 2.