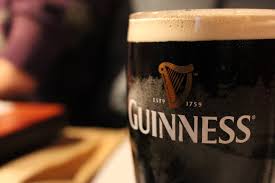 Finding an Irish pub in Madrid isn't all that difficult these days. In fact there seems to be almost one on every corner. Yet it wasn't so long ago that finding even the best Irish pubs in Madrid was a challenge. As this city was home to only a handful of them. Yet now days dozens of them can be found in the city, all serving up a cool glass of the black stuff (Guinness) and some traditional food.
With so many Irish pubs to choose from, deciding where to go can prove a challenge. But might we suggest you try out some of the following, especially if you happen to be in Madrid on 17th March (St Patricks Day).
Related article: Discover Madrid's Rooftop Bars
The James Joyce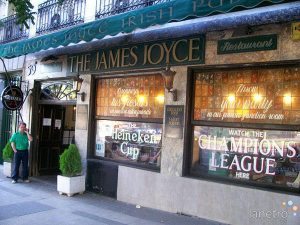 Until recently is was known as the Kitty O'Shea. The James Joyce is located in the centre of Madrid and is one of just a handful that is said to be run and owned by Irish proprietors. During the summer it is possible to sit outside, but it is also great to frequent in the evenings when live music is available. Find it at Calle de Alcalá, 59.
O'Connell's
O'Connell's is a spacious pub, and as a result tends to be full throughout the weekends. Along with large screens showing sports there is also live music available. However, this one doesn't open until late each day. One thing you should try when visiting O'Connells, often referred to as one of the best Irish pubs in Madrid, is their Irish breakfast. This pub is located at Calle de Espoz y Mina, 7.
Dubliners
Dubliner's is situated right next to O'Connell's, also located at Calle de Espoz y Mina, 7. For many the main attraction of this one is it large screen showing football matches from the English leagues. Plus, it also shows many of the major European football matches as well.
Finnegan's
Finnegan's is buzzing especially during the weeks when the Rugby World Cup takes place. It is a favorite haunt for many expats from both Ireland and England. They often gather here to watch their favorite sports such as football and, of course, any of the major rugby matches. You'll find this joint at Plaza de las Salesas, 9. 
Jarritus
The name may not sound all that Irish, but the decor once you enter does remind you of a genuine Irish bar. Jarritus doesn't enjoy live music as often as many of the others, but they make an exception when it comes to March 17th. You'll find it at Calle de Alcalá, 233. 
O'Neill's
Like The James Joyce, O'Neill's is Irish owned and run. It is believed to be among the most spacious of all Irish pubs in Europe. You'll find it situated close to the Huertas district of Madrid at Calle del Príncipe, 12. Like the other best Irish pubs in Madrid, this one has two large screens on which they show all major European football matches. They also sometimes hold special events including live shows and a Celtic music festival.