This year El Greco is hot as Spain commemorates his death exactly 400 years ago with several exhibitions dedicated to his work. El Greco has not always been so popular though and it took a long time before his paintings got considered as masterpieces, even up to the 19th century. Even in Spain over the past twenty years El Greco did not use to have the same fame as for example Velazquez or Goya had, and his paintings were kind of tucked away in the old Prado museum as well, but El Greco has gained more popularity over the past years and now, in the new refurbished Prado Museum, his paintings have gained a much more prominent place as they had before.
El Greco has always been quite of an outsider though, even during his life. He was originally from Crete hence the name, where he was born in 1541 and where he first got trained as an icon painter. He later moved to Italy where he trained in Venice and in Rome before in 1577 he moved to Spain in search of a better financial position. That El Greco already then had his own particular view of art became obviously clear when he suggested, while he was in Rome, to over paint the Sixteen chapel as the pope back then was not satisfied with some highly erotic parts of the painting done by Michelangelo. A more logical explanation would be that El Greco was just very jealous of Michelangelo's masterpiece as he himself was also a great admirer of his work, and Michelangelo's influences can be seen throughout El Greco´s work as well.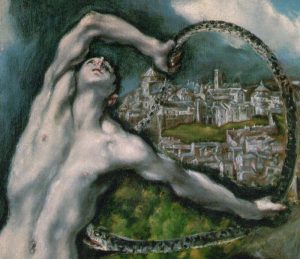 The painting style that El Greco mostly used belongs to the mannerism style. This painting style can be considered as a very classic painting style, but instead of depicting the image as truthful as possible, mannerism painters preferred to use unrealistic slender, s-shaped figures and surreal or complicated perspectives. Roman painters from around 1550 had developed this style were figures were enlarged and sometimes almost artificial depicted in order to achieve an even more virtuous and more than perfect image possible.
Among the finest Mannerist Artists were for example Michelangelo Buonarroti (1475-1564) famous for his Sistine Chapel frescoes such as The creation of Adam, Antonio Allegri da Correggio (1489-1534) known for his sentimental narrative paintings, and the first to portray light radiating from the child Christ, and Tintoretto* (1518-94), one of the great drawing experts and a prolific composer of large religious paintings executed in the grand manner and almost verging on Baroque.
Many figures in el Greco´s paintings are also very slender, and sometimes extremely tall, as this is what he had studied during his stays in Rome and in Venice, but later on El Greco adapts the mannerism, converting and developing it into a very own, even more expressive, typical El Greco style, loved by some and criticised by others.
Throughout his life El Greco´s style becomes more and more expressive of which some experts suggested in the past that this was influenced by El Greco´s intensified religious feelings, others suggested he suffered from an eye-sight problem, and some even said that his style was a product of the use of marihuana, but all these explanations are untrue as El Greco mainly adapted his style to serve the Counter-Reformation movement that was going on at the time in Spain.
El Greco smartly combined the intensified Counter-Reformation movement that was going on at the time in Toledo with his own development as a painter in a modern expressive style. El Greco´s own particular expressive style fitted perfectly into the Counter Reformation movement which was all about the reaffirmed love for the catholic church and expressing this love. Italian and Greek influences were still visible in most of El Greco´s works but he combined this with a very modern own style that served the Counter Reformation perfectly when it was on its highest point. Most of his paintings are dedicated to typical Counter-Reformation themes which include a lot of repenting Saints, images of Maria Magdalena and the Virgen Mary who was very important to the Catholics as the protestants had denied the existence of the holy motherhood.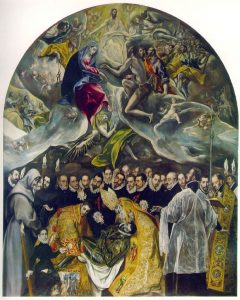 El Greco was a good networker and marketer too, and he knew exactly what kind of paintings would suit and like his patrons best, which existed mostly of intelligent churchmen.  Toledo was a hot religious spot at the time as the archbishop was also seated in the city. These churchmen highly regarded El Greco´s expressive paintings that fully depicted the image and feelings of the Counter Reformation Movement.
El Greco´s masterwork, and probably also his most famous work is the immense painting of  The Burial of Count Orgaz, which was commissioned by the parish priest of Santo Tomé located in Toledo in 1586. The painting, based on a local legend, represents death, heaven and eternal life and is divided into two parts which are clearly separated by colour and light. Many say that this painting is probably El Greco´s best work where he completely expresses himself in his own particular developed style combined with typical mannerism influences. The painting is an interactive exercise in movement and experience where El Greco fully tries to express the vision of life and its transcendence during the Counter Reformation.
It took several generations before the true significance of El Greco's extreme modern art was to be recognised. His skill as a painter was always praised, but his anti-natural style was almost always misunderstood and criticized as 'eccentric' and 'odd'. It was not until the 1900s, after the Prado had dedicated an exhibition to his work in 1902, that a first major re-appraisal of El Greco´s status within the art scene took place, and his originality was finally 'discovered'. From then on El Greco´s work has inspired major artists such as Édouard Manet or Cezanne who painted his own version of the lady in fur after El Greco´s original.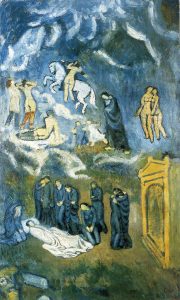 Pablo Picasso was probably the one who always has been most intrigued by El Greco´s work, and El Greco´s work the Burial of Count Orgaz was probably his inspiration when Picasso painted his famous work Evocation. The Burial of Casagemas. Many other mayor artist were also captivated and influenced by El Greco´s paintings besides Picasso.  So have Amedeo Modigliani, Diego de Rivera and Jackson Pollock also all made master works after El Greco´s paintings, and the latter even became slightly obsessed by El Greco´s work. A good example of El Greco´s influence can be clearly seen in Pollock's work Gótico from 1944.
El Greco´s incredible modern style has been followed and imitated by many others afterwards, and he has majorly influenced some of the most modern painters that ever existed in history. El Greco´s work is truly special, and he can be considered the world's first modern expressive painter ever to be alive.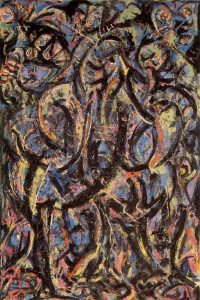 * In his youth, Tintoretto, born Jacopo Comin, was also known as Jacopo Robusti as his father had defended the gates of Padua in apparently a pretty robust way hence the name. His real name "Comin" has only recently been discovered by Miguel Falomir, a curator of the Prado Museum, and was made public on the occasion of the retrospective of Tintoretto at the Prado in 2007. Comin translates to the spice cumin in the local language.