Plaza de Cibeles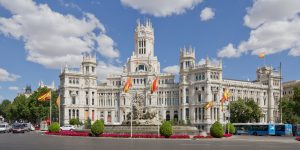 Plaza de Cibeles  is a Madrilian landmark, famous for being the location of a gorgeous neo-classical complex of marble sculptures with fountains and the stunning City Hall building, the Cybeles Palace. The fountain was and sculptures were designed by Ventura Rodríguez, Francisco Guitiérrez and Roberto Michel, while the Cybele Palace was designed by Antonio Palacios.
Plaza Cibeles is not exactly a place you can walk in, as it is located at the intersecting of Calle de Alcalá, Paseo de Recoletos and Paseo Prado.
Plaza de Santa Ana
Plaza de Santa Ana is one of the most famous plazas in Madrid, with a variety of businesses that attract a lot of people to it. The area occupied by the plaza today used to be the site of the Convent of Santa Ana, also known as Convento de las Carmelitas Decalzas, which had been built during the sixteenth century.
In 1810, José I ordered the destruction of the convent and adjoining houses in order to create a plaza with a garden and to start the urban sanitation of the area.
There are a number of notable buildings and businesses in the plaza like Teatro Español, Cerveceria Alemana and Hotel Reina Victoria.
The absolute epicenter of Madrid's New Year's Eve celebration, Puerta del Sol Square is one of the most popular squares in the city, and one of the busiest places in Madrid.
Plaza Mayor
Plaza Mayor is one of the most popular squares in Madrid, built during Philip III's reign during the seventeenth century.  This large, rectangular plaza is surrounded by three-story residential buildings and is often used for municipal and cultural functions.
Puerta del Sol
Puerta del Sol was one of the original gates of the city of Madrid during the fifteenth-century, becoming an important meeting place between the seventeenth and nineteenth centuries.
Puerta del Sol has a variety of famous buildings and landmarks, like the statue of Charles II of Spain and te bear and madrone tree statue, by artist Antonio Navarro Santafé.
The most important point in Porta del Sol square is perhaps the old Post Office building, that serves today as the office of the President of Madrid. This building has a large clock on top which becomes the center of attention at New Year's Eve.
Plaza de España
A popular tourist destination, Plaza de España is a pleasant square with beautiful gardens, located between Gran Vía and Calle Princesa. The square is surrounded by historical buildings such as Casa Gallardo, Edifício España and the tower of Madrid. At Plaza España there is also a monument to Miguel Cervantes, featuring the author and his most famous creations: Don Quijote and Sancho Panza.