Listed by Guinness World Records as the world's oldest restaurant, Botín has been turning out impeccably

roasted meats from its original Castilian-style cast iron wood burning oven since 1725. Word said that even Francisco the Goya at the age of nineteen worked in the restaurant as a kitchen help before he became a famous painter. Jacqueline Kennedy, Charlon Heston, Michael Douglas, Pedro Almodóvar and Ava Gadner all have dined as well in the world's oldest restaurant. Legend or not, one thing is clear, Casa Botín has been serving authentic Castilian food for over more then three centuries, and is still a very popular place, not only among tourists but also still with many Spanish politicians, famous people and even local habitants.
But before Casa Botín became Madrid's tourist favourite, it was already a very popular spot among famous Spanish people and especially authors. The restaurant has served for centuries as an inspiration for many Spanish writers, such as Benito Pérez Galdós, who mentions the restaurant in his famous novel Fortunata y Jacinta, or Extremadura-born Arturo Barea, who dedicates a space to Casa Botín in his most famous work, The Forging of a Rebel.
Barea´s trilogy is a perfect portrait of the customs of Madrid, portrayed through the everyday trials and tribulations of a modest family (the author's own), from the beginning of the century to the Spanish Civil War. In one of the paragraphs, Barea writes:
"…she goes alone, or with one of us, to Botín, an old restaurant in Madrid, and orders them to roast a suckling pig. She eats it alone – if we don't go with her – with a large dish of lettuce and half a litre of wine."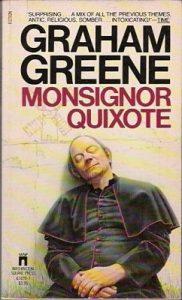 Not only Spanish writers were inspired by this even today charming restaurant though, countless foreign authors have also been seduced by its marvellous, 18th-century interior and its excellent, Castilian food. Famous author Graham Greene, who last visited Madrid in 1980 to give a lecture, also mentioned Casa Botín in one of his last works; Monsignor Quixote (1982), a novel in which Green, although done in a moderate tone, confronts Marxism and Catholicism.
When Father Quixote, a local priest of the Spanish village of El Toboso who claims ancestry to Cervantes' fictional Don Quixote, is elevated to the rank of monsignor through a clerical error, he sets out on a journey to Madrid to buy purple socks appropriate to his new position; "…I suggest that before buying purple socks, we treat ourselves to a tasty lunch at Botín…".Published in 1932, Monsignor Quixote is Graham Greene's last religious novel, a fond homage to Cervantes, and a sincere exploration into the meaning of faith in the modern world.
More recent writers, like famous British writer Frederick Forsyth, mentions Botín in his novels Icon, which is set in the convulsed Russia at the end of the 90s, and The Cobra, a thriller about international cocaine traffic. On page 146 in The Cobra we can read: "De Vega took her to an old restaurant that had been serving food when the conquistadors came from their homes in wild Extremadura to seek the favour of the King to send them to discover the New World. When he told her the story – complete nonsense, for the Sobrino de Botín in the Street of the Knife Grinders is old but not that old – Letizia shivered and glanced around to see if the old adventurers were still dining there".
Ernest Hemingway, known for his love for Spanish food and wine, had a special connection with Botín and its owners. In his travels to Spain, Hemingway often visited Botín and formed a firm friendship with Emilio González, father and grandfather of the current owners. By way of an anecdote, he was particularly keen on learning how to make paella, although his skills in the kitchen were somewhat less than his talent with the typewriter.

Of all authors, Hemingway was known for his authentic love for Spain, its food, its people and its bullfighting. As a passionate defender of bullfighting festivals, in 1932, he published "Death in the Afternoon", an authentic portrait of bullfighting traditions, in which he also mentions Casa Botín:"…but, in the meantime, I would prefer to dine on suckling pig at Botín than sit and think about the accidents which my friends could suffer."
Casa Botín also appears in his famous novel "The Sun Also Rises" in which Hemingway mentions Botín in the final scene of his novel: "We lunched upstairs at Botin´s. It is one of the best restaurants in the world. We had roast young suckling pig and drank rioja alta. Brett did not eat much. She never ate much. I ate a very big meal and drank three bottles of rioja alta."
Yes, it's true that Casa Botín is filled with tourists these days and yes, staff are keen to keep things ticking over and there's little chance to linger. But the novelty value is high, and the food served is still excellent, and worth trying out one day.
Note: The Botíns died without any descendents, and the restaurant was subsequently taken over by their nephew, Candido Remis in 1868, which explains the name used by the business ever since: El Sobrino de Botín (Botín's nephew).