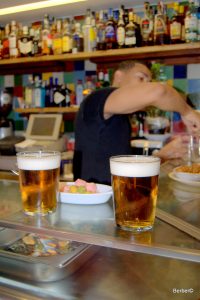 Madrid has, besides incredible cultural-historical sights, some of the best tapas bars in Spain. Going for tapas is part of the Madrileño lifestyle and means you meet up for a drink with some friends in a bar while you enjoy some tapas. A tapa is a free snack that you receive when you order a drink in a bar. It is a bit of sport for Madrileños and Spaniards in general to find the best tapas bar in the neighbourhood and if you mingle with Spanish people everybody will always happily recommend you their favourite tapas bar in the city. Here below you can find a small selection legendary tapas bars in Madrid.
Best fried bacalao tapa in town: Casa Labra, Calle de Tetuán 12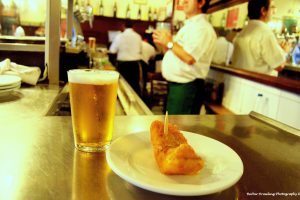 Casa Labra is located in the heart of Madrid next to the Puerta del Sol. In 1879 the Spanish Socialist Workers party was founded in this restaurant by Pablo Iglesias, which is also still recalled by a plaque on the premises but this bar is also famous for its delicious fried cod tapa or bacalao as the Spanish say. They serve them in two ways; croquette style of plain fried and you should really try each variation as they both are incredibly delicious.
Biggest tapa in Madrid: El Tigre, Calle de las Infantas 30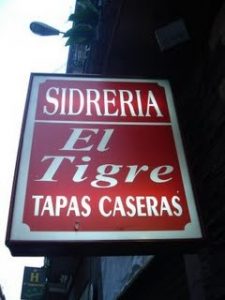 The famous bar El Tigre, located in the Chueca area, is considered a bit of an institution in Madrid both by locals as well by the many visitors who have sampled the house cider and the tapas here since ancient years. Do not be put off by the hectic, loud and sometimes disorderly vibe as it is all part of the El Tigre experience. When you order a small beer or wine you will get a rather large plate of food with your drink, normally some paella or patatas bravas with salsa which are fried potatoes covered in a delicious sauce. The tapa served here is bigger that what you receive in other bars and that is why El Tigre is incredibly popular with local and international students. The quality of the food combined with the cheap prices makes El Tigre a busy bar that is almost always packed so it is best to visit this great tapas bar before nine pm or at lunchtime.
Best tortilla in town: Bodega de la Ardosa, Calle Colón 13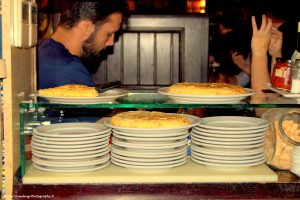 Located in the Malasaña neighbourhood, this traditional old tapas bar called Bodega de la Ardosa has a long history of serving tapas. They even started serving thirsty clients at the end of the 18th century. Besides having a large variety of foreign beers on draft they are also famous for their delicious tortilla. We recommend a visit around noon when the tortilla of the day normally is just freshly made. If you need to visit the toilet you need to step under the bar to the back part where they also have as few tables available where you can go when it gets busy. They also serve a very good salmorejo (cold thick tomato soup), cecina de Leon (type of cured meat) and have a great jamón iberico if you fancy something else besides the tortilla.