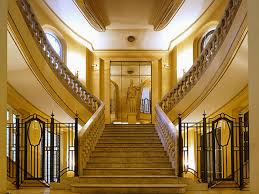 There are plenty of great museums to visit in Madrid that houses some of the world's greatest works of art.  But there is one place you may not have heard of that also exhibits master pieces is Circulo de Bellas Artes.  This is because it is in fact a private art organisation and is now Europe's foremost one.
This particular organisation was created in the latter part of the 1880's by a selection of artists who lived in the city.  Since its foundation a number of the world's leading artistes have passed through its doors.   Along with Piccasso this has been home to the novelist Ramón José Simón Valle Peña.  Plus the dramatist Jacinto Benavente who won the Nobel Prize also graced its hallways.
The Protection of Fine Arts
Since the decision to declare this a centre for the Protection of Fine Arts in 1921 it has become an important venue.   As well as being a place of study it houses a number  of conferences and workshops.  Plus of course it is home to more than 1200 paintings, drawings, ceramics and sculptures.  Also it is home to a large collection of periodicals and documents related to the world of art.   Included within this area is a collection of more than 3,000 books owned by the gallery owner Juana Mordó who died in 1984.
Circulo de Bellas Artes
Throughout the year the Circulo de Bellas Artes organises a variety of different events.  It has become renowned for its various concerts, theatre and dance productions.  Plus each year during the main Madrid carnival it is here where the most famous of Spain's fancy dress party's take place.  Each year it holds the Baile de Máscaras de Carnaval, a masked ball with live music and DJ's.
But it isn't only what is contained with in this building that is of interest to many who visit the city.   The building itself is of considerable architectural interest.  In fact in 1981 it was delcared to be of national historic and artistic monument.  The building which stands out from the buildings beside it because of its multi layered facade was designed by the renowned architect Antonio Palacios.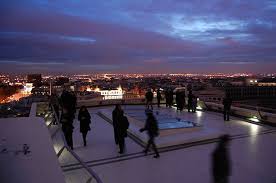 After spending time enjoying the exhibits why not enjoy a spot of lunch in the cafe.  Here you can enjoy a lovely selection of tapas dishes in what used to be a members only club.   As well as serving great food at lunch time enjoy the cafe's less formal atmosphere in the evening as well.  Why not enjoy a bite to eat after taking in one of the many programmes that are on offer in the evenings from 5.30pm.
Also if you wish you can take in the amazing views of Madrid from the buildings top terrace.  To have access to this a small fee is charged but it enables you to walk around the roof of the Circulo de Bella Artes.  Allowing you to enjoy some truly spectacular views of this amazing city.