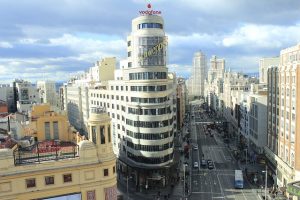 One street in Madrid that you should spend time exploring is Gran Via.  Not only is it an important area for shopping, but also is one of the liveliest areas.
Along with a great selection of shops and restaurants there are several cinemas here.  But what really makes this street so special is the design of many of its large buildings.  As you stroll along Gran Via take time to glance up once in a while.  This will allow you the chance to be able to take in and admire the grand edifices that are wonderfully decorated.
You should begin your walk along this street in the square known as Plaza de Alcalá.  You will then finish your walk in another square called Plaza de España.   As you make your way along Gran Via (Great Way) there are plenty of shops, bars and restaurants to explore.  Plus of course you could always stop and take in a show at a theatre or a cinema.
Madrid's most central street
It is often considered to be Madrid's most central street, so offers the perfect place for you to stay when visiting the city.  Along with the usual hotels there are several tourist apartments to rent.  Also why not consider staying in a hostel, which are usually small family run hotels.
Work on this street didn't start until the middle part of the 19th Century.  This was when the city's urban planners decided that a new thoroughfare was needed.  One that connected Calle de Alcalá  with Plaza de España.   As a result of this quite a few buildings were demolished in the center of the city.   Yet it would be several more years after their being demolished that work on the street itself begun.  In fact work on Gran Via didn't begin until around 1906 and was finally completed in 1929.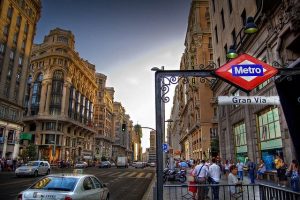 With the construction of this new road it offers architects in the city an opportunity to create some large building.  These were all designed using the architectural styles that were in fashion at the time.  The first building that is going to catch your eye is the most famous of them all on Gran Via.  It is the Metropolis Building (Edificio Metrópolis).  It was erected between 1907 and 1911 and designed by Jules & Raymond Février.
Then further along the street you'll find the next building worth taking time out to view.  Located on the left hand side of the street is the Grassy Building (Edificio Grassy).   This one is distinctive because of the small tower built on the corner of it.
As you reach this building you'll find that you have great views of one of Madrid's tallest buildings.  You'll see the 290ft (88m) high tower of the Telefónica building (Edificio Telefónica).  This was built between 1926 and 1929.  Unlike other buildings along the Grand Via this one was actually designed by an American architect called Louis S Weeks.