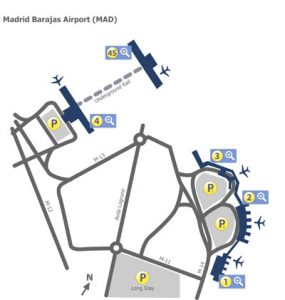 Travelling to a new city can lead to spending a good deal of time trying to find your way around. It is to be expected that when you are trying to manoeuver around an unfamiliar city you may get lost, or spend a good deal of time trying to not get lost. Your confusion, however, should not start with the airport, at the minimum, you should be able to at least find your way through the airport. When travelling to Madrid and you are eager to relax in one of the many holiday apartment rentals there, quickly manoeuvre through the Madrid Airport to relax after your flight.
Madrid-Barajas Airport
The Madrid-Barajas Airport which is within the Madrid city limits, named for the adjacent Barajas district, is one of the busiest airports in the world. It is the largest and busiest airport in Spain, and in 2008 it was ranked the eleventh busiest airport in the world, and the fourth busiest airport in Europe.  Be sure to give yourself plenty of time to manoeuvre through the airport, as it will take some time to get out and around. This major airport is connected to many international airports, including airports in Chicago, Boston and Las Vegas, and is an entryway to the city of Madrid resulting in many travellers coming through this airport. The Madrid-Barajas Airport has four main terminals, Terminal 1 is for international flights, Terminal 2 for domestic and European flights, Terminal 3 covers flights for Lagun Air and Terminal 4 is used for Iberia flights and for any of the world's leading airlines.


Getting Around
The four terminals of the airport are connected by roads and railways. As well Madrid's underground rail system is accessible from the airport, which is one of the ways, travellers can get to their destinations. One can also take a taxi to their chosen destination, but it is important to keep in mind that it is roughly an hour and a half ride from the airport to downtown Madrid. Located in the airport, there is also a hotel for travellers who may have missed their flight, had their flights delayed, or are unable to get to your room in the city until a later time. The Madrid-Barajas Airport is well equipped to make it easier for their travellers to commute and give them a less hectic start to their vacation, providing them with numerous restaurants and bars as well.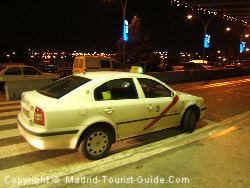 The Madrid-Barajas Airport can be hectic and confusing, but if you look up all the information you need, such as which terminal you will use, your gate number and how you plan on leaving the airport, you will be able to quickly and efficiently make your way through the airport. Do not be intimidated by the hustle and bustle of the airport. With access to taxis and the underground system and a hotel in case you are unable to get to your accommodation, Madrid-Barajas Airport does all that it can to make your vacation simple. Travelling may seem like the most difficult and frenzied part of vacationing, it can be simple when you know where to go and how to get around.