Madrid Gay Pride, or Orgullo, is one of the city's most eagerly anticipated events. Heralding the true beginning of the summer, this enormous celebration is not only the largest Gay Pride event in Europe, it is the single largest annual gathering of people in Europe, with over 2 million people taking to the streets!  The success of Orgullo in Madrid is hardly surprising, after all, Madrid is one of the most of the most open, diverse, cosmopolitan, and gay-friendly cities on the planet.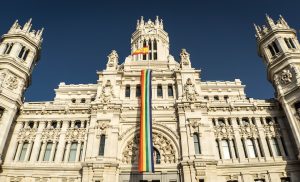 As with similar events in other countries, Orgullo originated as a positive stance against discrimination against the LGBT community, to promote visibility, for self-affirmation, dignity, to build a sense of community, and celebrate sexual diversity in all its forms.  Despite the Catholic history of Spain, the Spanish people have embraced and supported the LGBT community like nowhere else.  So much so, that Orgullo has evolved into less and less of a gay event, but seems to be now about Madrilenos of any and every orientation and persuasion, holding Europe's biggest fiesta and having one big mixed party to celebrate life.
Highlights
The Pride Parade is Europe's biggest parade.  Featuring hundreds of outrageously decorated floats, it begins at 6pm on July 2 from Atocha train station, and makes its way along the Paseo del Prado to Plaza de Colón.
Waiting for the end of the parade will be an enormous stage with music and bands, and of course, tens of thousands (or more), of revellers partying and dancing.
On July 1, go to see the Mr Gay Spain contestants strut their stuff at Callao, followed by music, DJs and live acts
The closing night party is a heaving dance rave attended by boys in their thousands, at Madrid's largest club La Riveria
Whether you are part of the LGTB community or not, this is the biggest party in all of Madrid, and it's the perfect place to see locals in all their high-spirited glory.  Events such as the parade and concerts are all family friendly and welcoming of everybody.  So do come down to have some fun, dance, enjoy the beginning of the Madrid summer, and celebrate the diversity of this great city!
Details
Dates: June 29 to July 3
Location: Centred around Chueca, Madrid
Further details: Download the official Orgullo guide here (in English and Spanish)