Are you spending the holidays in Madrid and don't know what event to go to for New Year's Eve? The answer is easy: go to Puerta del Sol square!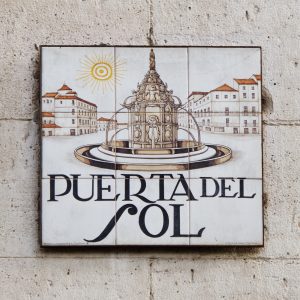 The absolute epicenter of Madrid's New Year's Eve celebration, Puerta del Sol Square is one of the most popular squares in the city and one of the busiest places in Madrid.
Puerta del Sol was one of the original gates of the city of Madrid during the fifteenth-century, becoming an important meeting place between the seventeenth and nineteenth centuries.
 Puerta del Sol has a variety of famous buildings and landmarks, like the statue of Charles II of Spain and te bear and madrone tree statue, by artist Antonio Navarro Santafé.
Puerta del Sol square
The most important point in Puerta del Sol square is perhaps the old Post Office building, that serves today as the office of the President of Madrid. This building has a large clock on top which becomes the center of attention at New Year's Eve.
Hundreds of people wearing wigs, hats and masks get together, with hands full of confetti and grapes, waiting for the clock to strike midnight. The fact that the square is so spacious are and the fact that it provides an excellent view of the clock have made Puerta del Sol the city's official place to welcome the New Year. When the clock pointer finally reaches 12, people eat twelve grapes (one grape per month), which supposedly brings them luck for the following year, and toast with cava.
Curiously enough, the New Year's Eve celebration has an official dress rehearsal that happens the night before, on the evening of the 30th of December. The fact is that the New Year's Eve party at Puerta del Sol square is the most important New Year's Eve celebration in the city, so to make sure everything will go according to plan, the city organizes the Pre-Uvas rehearsal.
Groups of people get together at Puerta del Sol with cava and their grapes, to perform the exact same ritual that will take place on the following night. though some people take candies like M&Ms to eat at midnight instead of the grapes, because it is supposed to be bad luck to eat the twelve lucky grapes before the real New Year.
Regardless of you deciding to go to a party at a club afterwards or someplace else, Puerta del Sol square is definitely the place to be when the clock strikes 12.