Moving house is a daunting task, moving house to a foreign city even more so. That aside it's an amazing opportunity filled with excitement and adventure. You may have found yourself trawling the internet searching for that perfect place with little luck. Worry no more, Madrid is a fantastic city to live in and you will be calling the Spanish capital home in no time.
Do you want to keep your bank balance happy but don't want to miss out on the action? Here are our best picks:
Malasaña
Tell your new 'Madrileño' friends that you live in Malasaña and you'll be popular overnight. Hip, trendy, alternative are a few of the words thrown around to describe this 'barrio'. Lying just to the north of Grand Via you are right in the heart of the action. Expect to find boutiques, trendy bars and an even more fashionable crowd. Malasaña is brimming with character; from its cobbled streets, pretty plazas and beautiful architecture you will soon discover why it's so popular. The area is gentrifying fast and has lost some of its counter-culture roots but do not be surprised to find a bit of grim here and there. It may not be the best value anymore but bargains can still be found.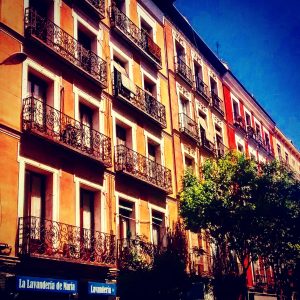 Cuatro Caminos
Keeping with the theme of alliteration 'convenient' would the third C missing from Cuatro Caminos. Located on line one you are within easy reach of , the city centre and Madrid's business district. With thanks to Bravo Murillo (the main arterial street) you may never find the need to venture to the centre again. Packed with shops, markets and numerous eating establishments you are well catered for. Cuatro Caminos offers great value but there is no mistaking it is a little tacky around the edges. You will find a diverse population here with a strong Latin American flavour. Variety is abundant, whether it is Dominican barbers, Chinese superstores or Peruvian restaurants you will never be short of choices.
Acacias
By leaving the immediate city centre you will be surprised at how much more you can get for your buck. Lying just down the hill from Madrid's famous Rastro market and extending down to the river is Acacias. The area is served by both the metro stations Acacias and the interconnected Embajadores. Generally composed of 1960's through to modern apartment blocks the area is less frantic and pretty than the centre but by no means boring. Restaurants and bars are still abundant and refreshingly cheaper than more central spots. Tourists rarely venture here and no doubt you will find yourself drinking with one of the locals in no time.
Lavapies
Once the Jewish quarter of Madrid Lavapies is now a multicultural hub. Defining a typical resident would be difficult task due to the huge mix of people that call this neighbourhood home. Such diversity gives Lavapies a distinctive vibe, where Indian restaurants sit side by side with newly opened trendy bars, where young African children play football next to latte drinking cafe dwellers. Lavapies is no where near as polished as Malasaña and it is quite grimy in parts but this is part of its charm. This character packed 'barrio' straddles a hillside that is a short walk or just one metro stop away from Sol.