Many of the people who consider making their home in Madrid would tell you that the only drawback is that the city is nowhere near a beach. In fact, the nearest beach to Madrid is located around 350 kilometers away, in Valencia.
However the urban planners in Madrid, one of Europe's most exciting cities, have not allowed the distance to deter them, and have gone on the principal that if the people of Madrid cannot get to the beach then they will bring the beach to them.
And that is exactly what they did . More than five years ago, the Madrid Río project was opened on a site on the slopes of the city's Manzanares River. An area of just under 2000 acres was painstakingly converted to include urban beach, surrounded by beautiful walks, bicycle paths as well as a choice of kiosks, cafés and restaurants, terraces, cultural and sports facilities, including skating rinks, an auditorium for concerts, a new cultural centre as well as special children's play areas, and within walking distance from the town center of Madrid.
Situated on the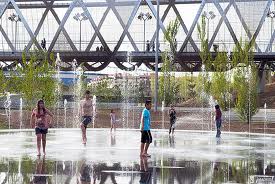 , the area has also been brightened by the planting of more than 5000 new trees, making for a total of around 26000 trees for visitors to shade under. To allow access from all parts of Madrid a total of 11 new footbridges with a specially constructed built, while three of the city's most famous bridges the Puente de Segovia, the Puente Del Rey and the Puente de Toledo were totally renovated.
That means that those who complain that Madrid has no beach are in for a pleasant surprise, and have discovered yet another reason to live in this exciting city. And even better news is that the urban beach is within walking distance of the offices of ShMadrid. ShMadrid to brand themselves a worthy reputation name for helping newcomers to the city to find the ideal solution for their accommodation problems. No matter your needs, your budget and your tastes ShMadrid will be sure to have something to suit
So while you find a beach in the center of Madrid, let ShMadrid take the headaches either finding your apartment in the city.