The city of Madrid's renowned for having some attraction that will suit everyone's tastes and culture. For those who are enthusiasts contemporary and modern art, and especially that emanating from Latin America, should take the time when in Madrid their visit to the Queen Sofia Museum.
 The Queen Sofia Museum or Reina Sofia is one of Spain's most modern museums in designated as the national museum of 20th century art. Opening its doors only in September, 1992 by Queen Sofia of Spain after whom it is named, the "Sofia" as it is known by the locals have become regarded as an international center for all followers of modern art not only from Spain from all over the world.
The museum is situated on the Paseo del Prado in the southern part of the city adjacent to the Museo del Prado and the Museo Thyssen-Bornemisza.
Anyone coming to spend some time in Madrid, to work with you, study or just enjoy will make so much more experience if they have some nice to stay . And it shouldn't be too difficult to find a comfortable and reasonably priced accommodation in the city. In fact all that is required is a visit to ShMadrid, the city's leading estate agents.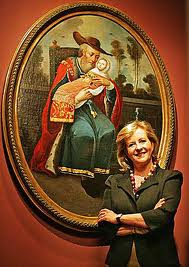 ShMadrid have been around the city for a long time now and have gathered together an experienced and friendly staff who are ready and willing to find the ideal apartment for visitors to the city from the many that ShMadrid always have to choose from.
Once the issue of accommodation has been taken care of, then the time will be right to be a visit to the Reina Sofia Museum, which is now currently hosting around 200 works from the art collection of fame as a Venezuelan collector Patricia Phelps de Cisneros.
The Phelps de Cisneros collection is regarded as being among the most important in Latin America. For that reason the management of the Reina Sofia Museum makes no secret that they regard it as a great honor that the museum was chosen to host this permanent exhibition of the finest examples South America art.
Among the leading works on show are the 'Construcción en Blanco y negro´ by leading Uruguayan artist Joaquín Torres García, 'Box Bolide´ from Brazil's Helio Oiticica as well as 'Fio', by Cildo Meireles, who also hails from Brazil. Other awards included in the collection come from such famous Venezuelan as Gego and Jesús Soto, as well as from Tomás Maldonado and Gyula Kosice of Argentina.
A visit to the museum is always recommended for those who understand modern as well as for those who like to see talent in a magnificent setting.