There is no denying that whether you are a novice traveller or a seasoned explorer, seeing all the sights that a city has to offer can be a beautiful and memorable experience. However, making your way through a new city can often be confusing, and how can one be sure to hit all the important attractions? Next time you find yourself stayingin one of Madrid's tourist accommodations, branch out from your usual walking tours, and experience the Segway tour. Segway tours provide a fun and even paced way for one to explore the city with their family or a group of eager travellers, just like them.  The initial draw to a Segway tour may be the idea of riding a Segway, but the sites you see and the history you learn are equally as stimulating.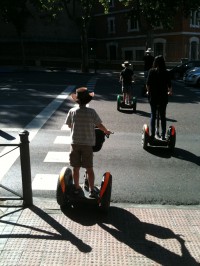 Advantages of Segway Tours
Taking a Segway tour can be very beneficial to travelers. The tours happen at a reasonable pace, and since one is riding a Segway you get all of the information and sightseeing associated with a walking tour and less fatigue. As well, Segway tours can be personalized to one's needs including but not limited to, the length of the tour, to make sure that you get to experience everything you want out of your tour. Taking one of these tours is a great way to make your trip an enriching, and memorable one, for families and individuals alike. In addition, a Segway is also environmentally friendly, and to take a Segway tour would be cleaner than driving around the city to go sightseeing.
 Safety of a Segway
Maneuvering a Segway can be easily learned by just about anyone before embarking on a Segway tour. Instructors teach the basics of how to use a Segway, riding forward and in reverse, turning, stopping and dismounting, so you can travel along the tour with ease. Learning to ride a Segway can be as simple and happen as quickly as learning to ride a bike. By successfully learning how to operate a Segway before the tour beings, Segway safety is ensured. Other precautions can be taken to make the Segway tour safer, such as wearing a helmet and riding using the slower, beginner setting on the machine. Learning how to properly and safely use a Segway can help guarantee a fun tour for everyone.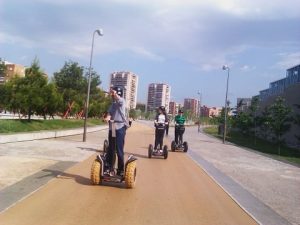 Weather is not an issue when it comes to Segway tours as the Segway can ride through rain. All that is needed is weather appropriate clothing, and the tour can continue as planned. Segway tours are a fun, new way to experience the city during your weekly rentals in Madrid. More and more people are giving Segway tours a chance and they are discovering all that they have to offer. Next time you are looking for a unique way to travel around Madrid and learn about the city's rich culture, make sure to give Segway tours a chance. It is an opportunity that you should take advantage of, an opportunity to create memories that will stay with you and those you share the tour with.
If you have ever been on a Segway tour and would like to share your experience, please let us know.