The female nude has always been one of the greatest inspirations for many master painters throughout the centuries. In the Prado Museum you can admire some of the most exquisite and erotic pieces that have ever been made in history. From beautiful ancient Rome sculptures to wonderful renaissance and baroque paintings, the Prado collection seems to have it all.
The famous Italian painter Vecellio di Gregorio Tiziano (Titian) was inspired by the story of the Greek Goddess Danaë. Danaë was a princess of Argos in the Greek Peloponessos, and the daughter of King Akrisios. When her father, the King, consulted an oracle to check if he still would get any male heirs he heard instead that he was destined to be killed by a son of his daughter so he decided to lock Danae up in a subterranean, bronze chamber. Her prison, however, was easily infiltrated by the god Zeus who impregnated her with a golden shower so Danaë still got pregnant and had a son named Perseus.
Titian painted his first Danaë in Rome in 1544-45 for Cardinal Alessandro Farnese, in reference to the Cardinal's love affair with a courtesan. This Danaë was the model for the version created for Philip II, in which Cupid was replaced by an old nursemaid, whose inclusion enriches the painting by creating a series of sophisticated counterpoints: youth versus old age; beauty versus loyalty; a nude figure versus a dressed figure.
A painting that has intrigued many people over the centuries is La Maja Desnuda or The Nude Maja painted by the Spanish artist Francisco Goya. The painting was probably commissioned by Prime Minister Manuel de Godoy in 1800, to hang in his private collection in a separate cabinet reserved for nude paintings. Goya painted also a exact clothed, counter version today known as La maja vestida (The Clothed Maja), which usually hangs next to La maja desnuda in the Prado.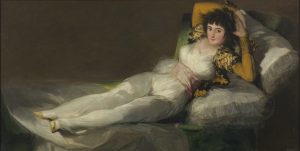 Some say that the model was probably Godoy's young mistress Pepita Tudó, others have suggested that the woman was Cayetana de Alba, the 13th Duchess of Alba, whom Goya is rumoured to have been romantically involved with and whose portrait he painted twice (in 1795 and 1797). Both Godoy as Goya got into trouble because of the painting during the Spanish Inquisition, as it was not allowed at the time to depict nude female figures in Spanish painting. The work was confiscated and used as an excuse for the political downfall of Godoy. Goya just managed to escape prosecution declaring he was just following traditional nude female painting referring to Velázquez's Venus, a work very much admired by the court and church.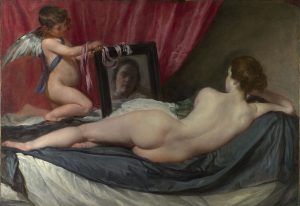 Are you curious to see the next Super Sexy Scene that can be found in the Prado? Then click here to see the next super sexy image of the erotic Prado series.