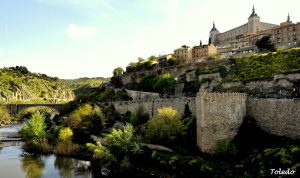 Madrid is a great energetic city and with so much to do we sometimes forget the gems that surround the city, but Madrid also has some great day trips to offer. If you are studying in Madrid, you should visit at least one of the cities below.

Toledo
The first city on our list and probably also the most famous one is the city of Toledo. This hidden gem is located just 70 kilometres south of Madrid and is easily reached by bus or high-speed train in 30 minutes. This still medieval looking city is built upon a small hill and surrounded by the river the Rio Tajo. The city is a fusion of Roman, Arab and Jewish influences who populated its city for many centuries. You should definitely take some time to wander around and soak up some of the most distinctive architectural combinations Spain has to offer. Toledo´s most important inhabitant was probably the famous painter El Greco who painted his masterpiece here; The burial of the count of Orgaz that can be found in the Iglesia de San Tomé. Considered among El Greco´s finest works, it illustrates a popular local legend of his time which involves the count which was a well-known 14th-century benefactor of Toledo.
El Escorial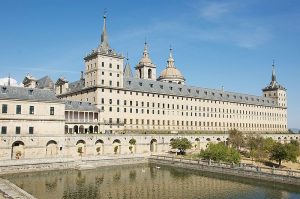 The next hidden gem in the area surrounding of Madrid is San Lorenzo del Escorial which was declared World Heritage Site by UNESCO in 1984. The city itself is rather small but contains one of the most famous monasteries in Spain, el Real Monasterio del Escorial, a palace and monastery in one built by Philip II of Spain. It is situated only 50 minutes away by train from Madrid and is surrounded by a beautiful green mountain area which is also a great place for hiking and other outdoor activities. The monastery itself contains, besides an incredible collection of 16 and 17th-century paintings, also an impressive royal palace, an immense cathedral and a mausoleum where for centuries Spanish Kings and Queens have been buried. One of its highlights though is its library, considered one of Europe finest which contains more than 40,000 precious books and has a marvellous impressive interior.
Segovia
The last city that can also be reached quickly by high-speed train from Madrid and is definitely worth a visit is Segovia. This city is famous for its historic aqueduct built by the Romans between the 1st and 2nd Century which measures more than 1 km long and almost 29 metres at its highest point!. It is a very impressive building made of 25,000 granite blocks and the aqueduct actually provided water to the city until not long ago. Another very important landmark in Segovia is the Alcázar, also known as the royal palace. The Alcázar was originally built as a fortress but has served as a palace, a state prison, a Royal Artillery College and a military academy since then. The rumour is as that the castle was also an inspiration for Walt Disney's Cinderella Castle and if you have some imagination you can indeed see some similarities between both castles. All this sightseeing will, of course, make you very hungry and you should definitely try out Segovia´s famous roasted suckling pig called cochinillo if you like meat and are not afraid of getting a whole suckling pig served at your table which is normally the case. Segovia is famous for its incredible tender suckling pig and if you combine it with a great regional wine it will give you an unforgettable lunch.