When it comes to staying in Madrid there are plenty of nice as well as affordable hotels to select from. But of course you need to decide which area of the city you want to stay in before selecting a hotel. So where to stay in Madrid?

Here we are going to look at what we feel are the best 3 places for you stay at in in Madrid's Barrio de las Letras (Huertas) part of the city.
This neighbourhood is central to the city and was once home to many of the country's most famous writers. Within it you'll find a good selection of bars and restaurants Madrid. Plus you have easy access to many of Madrid's main attractions, like Plaza Mayor, Paseo del Prado and Puerta del Sol.
As already mentioned there are plenty hotels Madrid to stay in during your time in the city. But it is also worth considering staying in hostels in Madrid if your budget is quite restrictive. But of all the places you can stay we believe that the ones we mention below are some of the best hotels in Madrid.
Room007 & The Restaurant Saporem
This is a wonderful hostel that has a restaurant as well and is in the perfect location. You are just a two-minute walk from not just Plaza Sol but also Plaza Santa Ana. Also from here the walk to the bus stop to get back to the airport shouldn't take you more than 10 minutes.
Downstairs you'll find this hotels restaurant and when you stay here you get discounts on your meals. Particular favourites of mine here are the burgers and home made pizza.
It offers a good range of rooms at reasonable prices from singles to doubles and even rooms that can sleep up to 8 people. Plus if you want why not take time to wander up on to the roof and enjoy the views it offers of the city.
Hostal Persal & The Ginger Restaurant
This is another place to stay that is in a great location. You are only a minute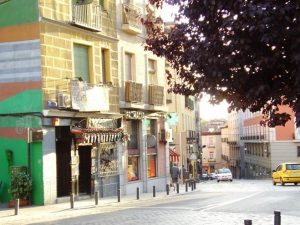 or so's walk from Puerta del Sol. Plus close by is one of the city's most famous areas, La Latina. Not only are its streets charming there are many gorgeous pintxo bars where you can try some delicious local fare. One place worth visiting if you stay here is Lamiak.
Plus their own restaurant Ginger is worth a visit. It may look expensive but they offer good quality food at prices that are affordable.
Again not only do we consider this to be one of the best hotels in Madrid but also is affordable. A single room costs just 40 Euros, whilst a double will set you back 50 Euros.
One Shot 23 & The Ateneo Restaurant
This is a modern hotel that doesn't only offer you luxury and convenience, but is also affordable. This particular hotel is to be found in a part of the city known as Barrio de Salamanca. From here you have access to many other parts of the city. For the history buffs among you this hotel is only a short walk from the Prado and Thyssen Museum.
The restaurant here is something special. It is located on Calle Prado and once you enter through its doors you seem to be transported back in time. If its walls could talk they are sure to provide you with some fascinating stories about this country's history.
Even though Madrid is noisy, you'll find that this hotel is situated in an area that is quiet. Rooms here cost around 68 Euros for a single and 72 Euros for a double.