For the person who decides that Madrid is the city for them for either work or study, they will find that there are tens of thousands who have come before them who will hasten to agree. Spain's capital city is, without doubt, an exciting place to live, with a rich tradition and history going back hundreds of years. Evidence of Madrid's rich culture found on almost every street corner. However you would be mistaken if you thought for a minute that Madrid is in anyway stuffy.
Even if your plan is to stay for just a few months to taste the sights and sounds of the city, then apartment life will be the best move for you. If so your first port of call should be the ShMadrid rental agency who have given themselves a first class reputation for finding solutions to short term rental in Madrid .If your stay will be a little more protracted and are looking long term, then for furnished apartments and studio ShMadrid are more or less guaranteed to come up with a solution.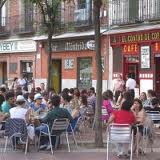 It is always a good idea, before you begin your search for your ideal Madrid apartment to take into account where you plan to be working or studying in the city or where you will be most liable to be spending your time during your stay. Whilst Madrid , like any other major city does have its rush hours and traffic jams, they also have an excellent and low-cost public transport system that means that you can get around the city fairly quickly, so you can choose your location without worrying too much about getting from A to B.
Most people who stay in Madrid usually prefers the downtown region, which is made up of eighteen barrios (districts) offering a wide selection of typical Spain Apartments of every size and budget.
For the young and single anywhere in the downtown part of Madrid will be an ideal spot to find a great apartment, and enjoy all of the excitement that the city has to offer.
For those coming to Madrid as a family, then obviously their priorities will be different, usually looking to be in close proximity to such things as schools and kindergartens. There are a number of neighborhoods, in the north and west of the city, which are almost a number of expatriate families from all over Europe ruled by the attraction of the international schools and kindergartens situated there. One of the most popular neighborhoods among expatriates and members of the diplomatic communities is known as La Morale, situated in the northern suburbs of Madrid, falls into a more up-market category, and is also the site of some very well-known and respected international schools catering for children of all ages.
Whatever your rental needs in Madrid, you're guaranteed to find it at ShMadrid. So before you put down new roots pop in for an informal discussion and find out what we have to offer in the way of Madrid apartments.