Zumba is a cardio dance workout based on a variety of Latin American dance styles and it has taken the fitness world by storm. The programme was created in the mid-1990s by Colombian choreographer Alberto "Beto" Perez and has soared in popularity. According to their website, Zumba now reaches over 15 million people in 180 countries around the world. There are even several varieties, including Zumba Kids, Aqua Zumba and Zumba Gold for seniors.
What to expect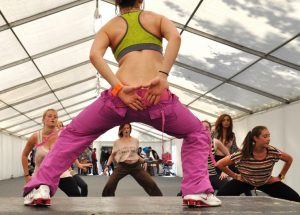 Zumba is a fun and fast-paced workout for anyone and everyone, including those with a serious lack of co-ordination. Don't sweat if you're not a natural dancer, people of all ages and abilities are welcome  and the moves are straightforward and repeated. The main focus of the class is on having fun and creating the atmosphere of a true Latin fiesta.
What are the benefits?
Zumba is extremely effective at working up a sweat, burning up to 600 calories per class with a variety of moves based on cardio, muscle conditioning, balance and flexibility. However, the fun and relaxed atmosphere means it doesn't feel like a workout, unlike a 60-minute spinning class or treadmill session.
If you like a good sweat, then you'll love Zumba.
Where to find Zumba classes in Madrid
There are plenty of Zumba classes available all over Madrid. Whilst an extensive list can be found on the Zumba website, here are a few examples of some gyms and studios where you can give the Latin American dance workout a try:
Centro el Patio: Calle Apodaca, 14. (Metro: Bilbao or Tribunal): El Patio is a private sports centre in the Tribunal area which offers a variety of dance and fitness classes for people of all levels from children to seniors. They hold Zumba classes twice a week in the evenings at 9pm for those who like to get in a workout before bed. A single class will cost €12 or alternatively you can buy a bundle of classes per month.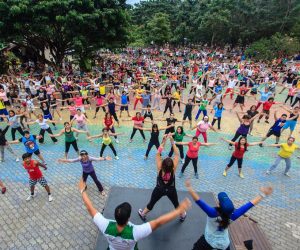 Amor de Dios: Calle Santa Isabel, 5. (Metro: Antón Martín): Amor de Dios is an authentic Flamenco dance studio which is situated above a fish market. The school holds a number of Zumba classes throughout the week, including Zumba Kids, with a few different instructors.
Circulo de Baile: Plaza del Conde del Valle de Suchil, 3. (Metro: San Bernardo): Circulo de Baile is a dance academy with a huge variety of dance classes on offer. They have regular Zumba classes throughout the week, including Zumba Kids, Zumba Junior and Zumba Gold. A package of 8 classes a month will set you back €58 euros.
You will also find Zumba classes in many of the larger gyms and sports centres. If you fancy having access to a wider range of facilities, joining a gym may be your best bet – many of them offer good prices and access to a variety of gyms across the city. Body Factory, Centro Wellness and Altafit are all good options.