Day two*

Enjoy a sunny breakfast at the small square located at the top of calle Huertas, or go in style for an incredible Opera brunch at the 5 star Hotel Westin Palace. After breakfast hit the La Latina area for some serious treasure hunting on Sunday when the Rastro is held, a local flee market. Top the morning off with some refreshing cañas and very Spanish tapas by following in the footsteps of Spanish Gourmet expert James Blick: Are you ready to sample some pigs feet and slugs?!!
Don't forget t check out the a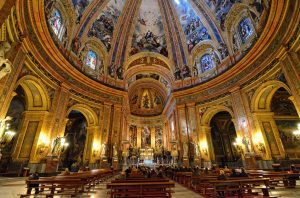 mazing Basilica of San Francisco el Grande which contains paintings by Zurbarán and Francisco de Goya. From the La Latina area return back to the barrio de Las Letras and walk down calle Huertas to the Paseo del Prado, also know as the Golden Triangle, where Madrid's top 3 museums are located.
Golden Triangle
For modern art visit Museum La Reina Sofia (Picasso, Dalí, Bacon, Miró), for the largest classic collection check out the Prado Museum (Raphael, Velazquez, Tiziano, El Greco, Goya, Rembrandt, Rubens), and if you want a mix of both modern and classic, then visit the Thyssen Museum (Goya, Renoir, Degas, Monet, Hopper, Rotko).
Enjoy an extravagant, artistic lunch at the Reina Sofia´s museum restaurant, and try out 2 Michelin star's awarded chef Sergio Arelio´s kitchen, who serves contemporary Spanish haute in a daring concept. For a more, typical Spanish cheap lunch, visit El Brilliante or el Museo del Jamon, two classical food bars that you should try out at least once, famous for their low prices and enormous sandwiches.
Siesta time
After lunch walk to the Retiro Park passing by the open book market at the Cuesta de Moyana, and have a relaxing siesta in the sun in the Retiro park. For a more romantic experience hire a rowing boat at the lake or check the Crystal Palace out. Don't forget to search for the polemical statue of the fallen angel located at the east end of the park, an ambiguous work regarding its possible interpretation as a satanic tribute. The surrounding area is a famous cruising area among gay people.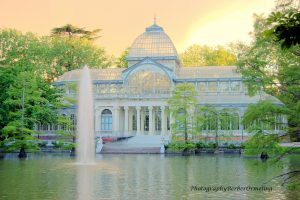 After siesta time walk down to plaza Cibeles and have a look at the old post office and palace, now turned into a cultural centre and town hall, called CentroCentro Palacio de Cibeles, normally hosting interesting exhibitions. You can visit the rooftop for excellent views of the Gran Vía but you do need to order a drink at its bar.
Shopping deluxe
Finally to end the weekend go for a walk at the trendy, gay neighbourhood Chueca to check out the latest fashion trends, or visit the exclusive Salamanca area, also known as Madrid's Golden Mile if you want to do some shopping in style (Chanel, Armani, Valentino, Louis Vuitton, Boss, Cartier, Gucci).
Fabulous Final Dinner
To end this amazing weekend you can choose between a fabulous rooftop dinner at the circulo de Bellas Artes, a romantic evening at the garden at the Ritz restaurant, or try some amazing Japanese food at the Kabuki restaurant. For cheaper options try Marieta, located in the Paseo de la Castellana, El Apartamento in Calle Ventura de la Vega, or take a taxi and try out avant-garde food at restaurant Sacha at Juan Hurtado de Mendoza, 11. For great Tapas go to Estay in calle Hermosilla.
*Click here to see the schedule for day one.