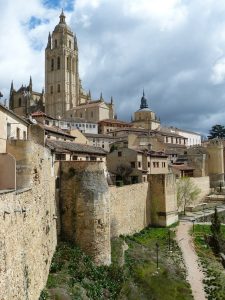 Sometimes when visiting Madrid it would be lovely to escape the hustle and bustle. Well thankfully there are plenty of places outside the city that you can escape to, every one of them offering their own unique set of attractions and charm. Of the many places that you can visit that are just a short distance from Madrid here are our 5 best day trips from Madrid you don't want to miss.
Toledo
This was once the capital of Spain and is full of old world charm. This medieval town perched on top a hill offers you some amazing views of Spain. There are many attractions for you to enjoy when you visit the town during your trip out of the city. To get a real sense of the town's history take the time to stroll through its many streets. Plus pay a visit to the Cathedral of Saint Mary and the Alcázar Fortress.
Segovia
If you want to take a trip out of Madrid and back in time then this is the perfect place to go. It is just 30 minutes by train from Madrid. Once you reach this medieval town it provides you with the perfect escape from life in the city. Although most people visit the town to see the historic Roman aqueduct, take time to explore its impressive cathedral and castle.
Avila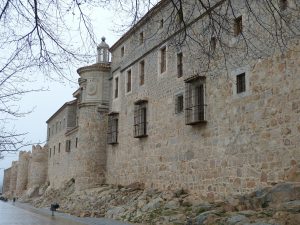 This town (pueblo) is most famous for the ancient medieval walls that surround it. From the top of these walls you have the opportunity to enjoy spectacular views of the colourful village below and the countryside that surrounds it. This is the best trip from Madrid if you just want to wander aimlessly about.
Alcala de Henares
This is now a UNESCO World Heritage site as it is where the acclaimed author Miguel de Cervantes was born and then baptized. Everywhere you look there are many there are many things that page homage to him. It is also home to one of the world's oldest universities. It is here that Christopher Columbus first met with the country's Monarch to receive the money that would fund his voyage to America. Whilst here don't forget spending some time checking out the towns many tapas bars.
El Escorial
This is one of the best day trips out of Madrid as it only takes an hour to reach it. It is located in the Sierra de Guadarrama Mountains. Within the small town you'll find a huge royal complex. The building of this complex was commissioned by King Felipe II in the 16th Century. Along with the royal palace within its grounds is a school, church and monastery. Also a Royal Pantheon where most of the kings of Spain during the past 5 centuries have been buried. Just a short drive from here is the Valley of the Fallen. Here stands Franco's monument commemorating and honouring those who were killed during Spain's Civil War. It is also where Franco himself has been buried.