Madrid has a rich cultural life, and those who enjoy classical music will find an abundance of performances taking place year round in the capital. Opera, symphonic concerts, chamber music, recitals, and choral music are all to be found. Madrid boasts three full-time major symphony
Madrid boasts three full-time major symphony orchestras, which is really impressive for a city of 3 million people. Compare this to, say, Chicago in the US, which has only one (albeit excellent) orchestra, or Melbourne in Australia, which has only one part-time orchestra, and no opera company.
Symphony
Madrid's chief symphony orchestra, the Orquesta Nationales de España, typically offers around 200 concerts per year, of standard and contemporary repertoire. The Orquesta de la Comunidad de Madrid (ORCAM) offers a varied programme, with a real commitment to contemporary music and especially Spanish composers. Both of these orchestras make their main home at the Auditorio National de Musica, Madrid's major concert hall. The other major orchestra of Madrid is the RTVE Sinfonica, Spain's radio and television orchestra. Most concerts are televised or streamed online, and they have their own home at the Teatro Monumental.
Opera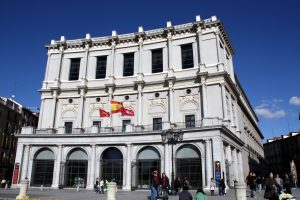 Teatro Real de Madrid is one of the world's great opera houses. Offering an impressive lineup of international soloists under the musical direction of British maestro Ivor Bolton, a comprehensive season of mainstream opera as well as innovative new works provides plenty of choices. Tickets are available from €12 to €180. Because of the popularity of the Teatro Real operas, many performances sell out in advance. A great tip to pick up cheap seats is to arrive to the box office two hours before the performance, where all remaining unsold seats can be purchased heavily discounted. A visit to the Teatro Real is highly recommended, merely to gaze in awe at the impressive architecture, lovingly restored.
Choral
Madrid has several professional choirs, chief among them is the choir of the Orquesta de la Comunidad de Madrid (ORCAM). Under the guidance of brilliant Portuguese maestro Pedro Teixeira, ORCAM's choir offers symphonic performances as part of the orchestra's main season, as well as well-devised a capella programmes. Check out the website for performance locations, which are placed throughout Madrid, from churches, theatres, and their main home in the small auditorium of the Auditorio National de Musica. Other major choirs in Madrid include the associated choirs of the RTVE Sinfonica, and the Orquesta Nationales de España.
Chamber Music & recitals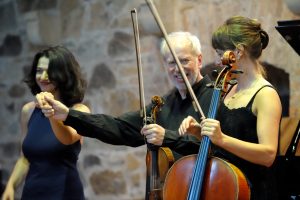 Teatros del Canal hosts a variety of recital and chamber music performances. A current initiative of the Teatro de la Zarzuela is a series of voice recitals featuring many of the world's greatest singers. Also, check out the website of the Auditorio National de Musica for a lively and ever rotating programme of visiting artists in the areas of recital and chamber music.
There is so much happening in Madrid's flourishing classical music scene! Be sure to check out all of the above websites and performance venues for the latest performance schedules. Another easy way to book tickets and to see what is on is through booking companies such as ClassicTic  or the official Madrid tourism site.
Enjoy!