Madrid is well-served by taxis, with over 15,000 of them operating throughout the city. But the service they offer has its problems: prices vary greatly depending on the time, day and luggage. Airport trips require a supplementary charge. Payments can often only be made in cash and bookings through switchboards can be inconvenient. And the reliability of both cars and drivers cannot be guaranteed.
Madrid-based startup Cabify offers an alternative model. Cabify enables users to book a high-end car with chauffeur at affordable rates with no supplementary charges through their mobile device in just two clicks. They can track the car's journey, speak directly with the driver before it arrives and pay securely via credit card or Paypal through their phone.
The company was founded by Juan de Antonio, Sam Lown and Adeyemi Ajao, who had met at Stanford University while they were studying MBAs. De Antonio, a former Telecommunication Engineering graduate of Universidad Politécnica in Madrid and now the company's CEO, elaborates:
"My colleagues and I had been thinking of such an idea for a while. During our trips all over the world, we realized the difficulty to understand taxi rates and how annoying it was to pay with cash. Besides, nowadays it is getting more and more uncomfortable to drive a car around the city. Cabify was launched as a solution for these headaches."
Monitoring the smartphone penetration in different countries, the founders realised its potential to disrupt the existing taxi business model. Cabify launched in Madrid in 2011 and in 2012 expanded throughout Spain and into South American cities in Chile, Mexico and Peru.
Cabify is straightforward to use: customers download the app, register with Cabify, add their payment details and 'set pickup location' position on the map. Through their smartphones' geolocation functionality, users can review the available luxury cars nearby. Cars can be requested immediately or reserved for a later date. The request is routed to the nearest driver instantly before confirmation message is delivered with the approximate cost. The fare is charged to the users' credit card account upon arrival at the destination, with the receipt is sent to them by email. Customers can then provide a rating and any comments on their trip.
The service is available on-demand, 24 hours a day 7 days a week across mobile devices. The Cabify App has integrated Google Maps to indicate pick-up point and track the driver's journey, with real-time tracking from the booking to the destination. A contact number for the driver is available at all times.  If the signal is lost for over 60 seconds or if the route changes significantly, a phone call will be placed to the user to inform them.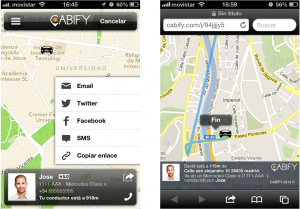 Cabify offers a premium, more exclusive transport service, with luxury cars, uniformed drivers and a high standards of service ensured by the development of a driver reputation system. Customers pay only for usage, from the point at which the taxi arrives. There is no subscription fee, no supplements and no financial transactions with the driver. Rates start at €10 per journey. In addition to its regular customers, Cabify also provide employee car services for corporations including Vodafone.Rather than using taxis, Cabify collaborate with upmarket car companies, including Mercedes and Audi, who supply them with the vehicles. Cabify provides a transport service and effectively acts a broker between the car rental companies, the chauffeurs and the customers. It is not an actual taxi cab service, partly because regulation issues make such a company problematic.
With Cabify's turnover growing at a rate of 50% per month, this Spanish idea has attracted American interest. In September 2012, the company raised €1.5m in Series A funding from Silicon Valley, which will be used to invest in R&D, enlarge their workforce expand to new markets. Cabify is expected to launch in Brazil and Columbia in the near future.
If you're interested in a change of destination for your Madrid taxi, ShMadrid has both Madrid vacation rentals and long term Madrid rentals available wherever you'd like to be dropped off.