Visitors to Madrid who are living there on a semi-permanent basis and have been issued with a visa will be pleased to know that they are entitled to take advantage of Spain's healthcare system without having to pay a penny. Better still, if you are working in Madrid and possess all the proper permits, then your employer is obligated to take care of your health insurance.  For those people living in Madrid who choose the path to being self-employed, one of the prices they will have to pay is to be responsible for their own social security payments in order to be eligible to receive healthcare.  Obviously, this is a very reassuring for the visitor to Madrid, and hopefully they'll never need to take advantage of it. In general, there are no shortage of hospital in Madrid offering general care and attention to the people of the city. As is the case with many other countries, the state health system can be a little chaotic and may not be to every visitor's taste especially if they have problems communicating in Spanish.
Finding dentists and doctors as an expat in Madrid
A lot of people who have made their home in Madrid with a short term house rental for a period of time have taken out a private health insurance plan. Although the quality of treatment may be similar to that of the public sector it is certainly not as crowded, and the chances of finding people to communicate with in English, as well as some of the other major European languages, are that much higher. As far as dental treatment is concerned, there really is only private treatment for non-permanent residents, meaning that in order to receive public dental treatment the patient would have to be a citizen of the country. Otherwise it will be private and more expensive.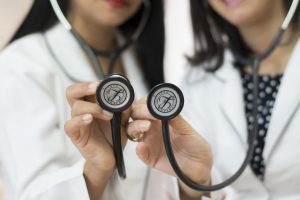 A medical centre popular with expats is Unidad Médica clinic situated on the  Calle del Conde de Aranda. The clinic stands out for its large number of  English-speaking doctors and dentists, as well as a well-trained staff who are particularly familiar with insurance procedures for EU and non-EU expatriates. Hospital Universitario HM Madrid, located at Plaza del Conde del Valle de Suchil, is another viable option that focuses on healthcare and treatment for international patients. Here, six different languages are spoken by the staff and they are there to assist patients with cultural and language barriers throughout their visit.
*Main photo via Pixabay