You throat is dry and stomach is rumbling but you only have a few coins in your pocket. Rest assured you are spoiled for choice when it comes to bars in Madrid but below we have selected five places that will be gentle on your wallet. So call your friends, grab a beer and get nibbling on some tapas.
La Pequeña Grana
Ditch the tourists and lose the crowds of non-Madriñelos. Only a couple of stops down from Sol on the yellow line is the locals' favourite of 'La Pequeña Grana'. Cheery, lively and cheap describe this Anduslusian bar. Every drink order entitles you to pick one personal tapa from the extensive menu that includes ham, patatas bravas, calamari and so on. A caña (small beer) is a bargain at only 1.50€, so be warned you can do some serious eating and drinking here!
El Tigre
No list would be complete with a mention to this famous bar. Drink orders here are typical and range from small measures through to the ironically sized mini (there is nothing small about this drink). Make sure you bring an appetite with you as the tapas here are huge, seriously huge! The hefty plates are loaded with mounds of tortilla, Serrano ham, croquetas among all the other usual Spanish favourites. This place is understandably popular so if you don't like crowds try to arrive early.

 Museo de Jamon
It may not actually be a museum but more of a cross between a bar and a cured meat deli. With a couple to choose from in Madrid the Museo de Jamon makes for a perfect pit stop when out and about in the centre. Expect to find inexpensive beer and tasty ham based tapas. If you fancy yourself as a bit of a ham aficionado then this place is a definite must. Legs of jamon dangle from the bar and the meat counter is filled with an abundance of cured meats suited to all pockets.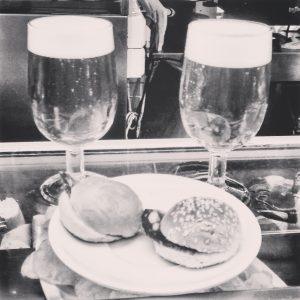 Tacos al Pastor
Not exactly a tapa bar in the true sense but this Mexican taco place makes for a perfect drinking and eating spot nonetheless. For the chili lovers among us there will come a time when your taste buds need a little bit habanero burn. Choose from a selection of authentic Mexican beers and tasty one euro tacos. Made in a true Mexican style with a choice of seriously hot sauces the food here is never boring. But maybe take it easy on the sauces, don't say we didn't warn you!
Indalo
Your food cravings will never be disappointed by a trip Indalo. Each drink order entitles you to pick one of the 29 delicious tapa from their menu. The quality of food here is generally good and portions large. Indalo does have a bit of a modern flair so besides the usual suspects of chorizo and calamari you will find some more contemporary offerings like the deconstructed tortilla, kebab sandwich and spicy pork skewers. Indalo is definitely an excellent spot to come sit down, chill out and fill up in.