If you've been hanging out in Madrid even for a short time, you've probably tried a myriad of tapas, the local food which began life as an appetizer, but which over the years has evolved into a sophisticated meal in itself.  By far Madrid's favourite tapa is a serving of patatas bravas.  For the uninitiated, patatas bravas, also known as patatas a la brava, or papas bravas, are  fried potatoes which have been diced into irregular shapes of about 2 centimetres, and served with a spicy tomato sauce.  Think of them as a high-class version of Brittain's hot chips or the USA's french fries.  The irregular shapes mean more surface area and corners for extra crispiness, and, being thicker than chips or french fries, you still get a soft, fluffy nugget of potato underneath that crunch.
The bravas sauce is always tomato based, and depending on your bar or restaurant, comes in varying degrees of spiciness.  Different Spanish cities have local variations to their sauces, for example, in Burgos, there is a touch of red pepper, the Valencians prefer a dash of vinegar, but in Madrid, the taste is for the distinct but subtle warmth of garlic.
Traditions are proudly upheld, and competition for who serves the best patatas bravas in Madrid is fierce, as evidenced by the many patatas bravas competitions held throughout the year. Everyone has their favourite place to settle down with a cerveza and a plate of patatas bravas, and the following are some which are considered to be the finest in Madrid.
Docamar
Docamar tops our list of the best bravas in Madrid and has consistently impressed food critics and competition judges for over 40 years.  Despite all the acclaim, Documar is nothing fancy, a typical Madrid bar, slightly out of the centre of the city, but well worth the short metro ride for these mouth-watering morsels.  Fluffy, light, crispy, and everything good bravas should be.
La Villa de Pescadito
Now, if it's a real spice hit you want from your bravas sauce, look no further than La Villa de Pescadito.  Here, they make their own fiery sauce in-house, which many foreign visitors might actually prefer to the typical bravas sauce.  Spaniards aren't known for their love of all things spicy, so the typical bravas sauce can be slightly disappointing if you're expecting something fierce. Not here – you'll get some real heat in this bar, and the patatas themselves are delightful.
La Chula de Chamberí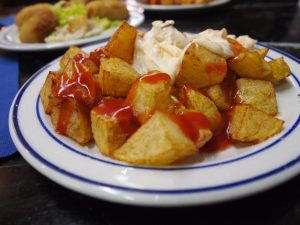 Here is where you'll find the "posh" version of patatas bravas.  At La Chula de Chamberí, a simple, humble bar food becomes a gourmet dining experience. Expect to pay a little more, but the visual wow factor created by the talented chefs will be worth every penny.  Your waiter will even ask you how well done you want your bravas, and will offer you a host of sauce choices to accompany your potatoes.
Las Bravas
As the name suggests, this restaurant does one thing and does it really well: perfect patatas bravas.  At Las Bravas, the potatoes are only lightly fried, giving them a pale colour and light, fluffy texture.  A variety of sauces is on offer, from mild to spicy, including aioli or just plain tomato sauce.  Cheap prices keep locals coming back for more, and they even have some funky takeaway boxes to get your bravas home safely to devour in front of the TV.