Like any major city in the world, driving a car in the city center can be a frightening and often frustrating experience. Parking is always a problem, drivers can be aggressive, and if you are not sure of your way around, then it would be a good idea to resist the tempation to take the car to get around the city.
Despite the fact that the city of Madrid is fairly sprawling in its layout, the city center itself is pretty compact, with the business center as well as all of its major landmarks, such as museums, shopping centers, more than enough bars and restaurants to suit every taste an budget within a easy walking distance of the city's epicenter – the Puerta del Sol.
Do you want to have your parking guaranteed when you arrive?
For that reason, if you are contemplating moving to Madrid and how to go about of finding the right place to live, then you should be looking at the city center, which offers so much, and need not be too expensive, if you contact the right people to help you find the ideal apartment, to meet your needs, tastes and budget. Around to help you make that search so much easier are ShMadrid, a major force in Madrid in apartment rentals. ShMadrid will always have a wide choice of apartments that to choose from, if you have set your heart on city center life, or even if your agenda better suits living somewhere in the suburbs of the city.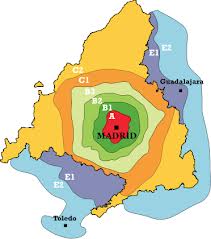 If that is the case, then you will be pleased to discover that Madrid provides more than enough options for getting around the city, from the metro or the bus for short hops after a long day's work, study or even sightseeing. Whatever the need, Madrid's public transport system is both easy to negotiate and reasonably priced.
For those who can use the metro which cover most of the city center and is expanding outwards all the time, the service is available from 6am to 2am, with a single ticket costing one euro. Regular users can invest in a 10-ride Metrobus ticket which saves some costs and is valid for both the metro and the Madrid bus service, which is much more inclusive.
Buses run from 6 am to around 11pm, when a night bus service that runs until 4am during the weekdays and all night on weekends.