In its role as one of the most exciting cities in Spain, if not in all of Europe, Madrid would not have that title if she was not capable of offering a wide investor of shopping opportunities, both for the people who are fortunate enough to live in this metropolis, as well as the hundreds of thousands of people who come to visit.
For people who are considering any kind of stay in Madrid apartments for rent can be a problem as the demand  is always more than the supply. However, those who use the services of ShMadrid will find themselves spoiled for choice, either for furnished apartments or studio apartments, in the very center of the city to make their shopping trips so much easier.
The more than  seven  million residents of Madrid , (known as Madrilenos) ,  have an advantage of knowing their way around the city, which areas to visit to get the best bargains or  find that particular item of clothing, furniture or electrical goods to suit their taste and their budget.
For those who are yet to learn how to find their way around the city, there are a few juicy areas well worth visiting where shoppers can find just about anything that looking for, ranging from the sublime to the ridiculous.
For those who like to do their shopping in the mainstream, then probably the best places to visit are either the Gran Via & Sol or the Principe Pío (or both, if you have the budget). Both of these centres are homeless to the major European clothing chains, with Pull & Bear, Stradivarius, and Zara being represented there. The Principe Pío is situated in the heart of Madrid's transport centre, and from there easier to catch either buses, trains of taxis to take you back to your hotel or apartment with all of your shopping.
For those looking for something a little more exclusive, then a visit to the Ortega y Gasset district is well recommended, and especially to the ABC Serrano shopping mall, which is home to the cream of Europe's most exclusive clothing stores. Those who make it, there shout not be surprised to find themselves rubbing shoulders with the WAGS (wives and girlfriends) of the Real Madrid soccer stars who have been known to buy most of their outfits there.
There are many privately owned boutiques to be found in these districts, offering the unusual and the attractive, where it is still possible to barter for places like in the good old days. If you don't find exactly what you're looking for in the many stores dotted around the streets of Fuencarral and Hortaleza, then a visit to the Plaza Felipe II might help you achieve your goals to stand out in the crowd.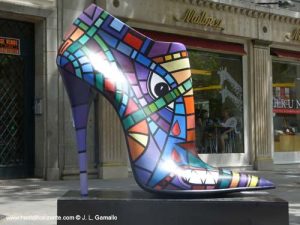 For those in Madrid, who are looking to pick up   furniture or electric goods, then they usually head towards  the El Corte Ingles one of  Spain's major department stores, offering a mouthwatering a large list of anything you need for the home and at exceptionally competitive prices. The advantage of shopping at El Corte Ingles is that there always a number of competitors, situated in close proximity, making comparison shopping as easy as it could possibly be.
For those who shopping tastes are more adventurous and are prepared to travel then, the outskirts of Madrid offer a lot of opportunities to find real bargains in the huge outlets that are springing up there.
Whatever your style of shopping and what you want to buy, you are sure to find it in Madrid. The same applies to a great apartment . either Short term rental in Madrid or  monthly rental for students in Madrid . Just contact ShMadrid and they will  soon come up with solutions for which Madrid apartments for rent to best suit your needs.