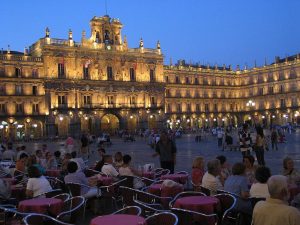 You've now made the decision to move you and your family to Madrid. But you don't just want to live anywhere you want to live somewhere that is ideal for you all.
When it comes to deciding which neighbourhood in Madrid to live in will depend on your particular needs. Also on the kind of lifestyle you like to live.
Compared to other capital cities you'll soon discover that Madrid is one of the safest. One of the reasons for this is that not just this city, but the rest of Spain has the highest policeman to civilian ratio. Plus the Spanish lifestyle of staying out late results in a lot of people around at night.
But if you are looking for a city that is quiet, this is where Madrid falls down. It can get quite noisy at night, but attempts are being made to crack down on this this. So it isn't as bad as it use to be.
So when it comes to moving to Madrid with your family which neighbourhoods should you be looking at? Below we list the ones we feel are most suitable and family friendly.
1. Salamanca
This is the obvious choice for families who would like to live near to the centre of the city. Even though it is in a central location you'll find living here peaceful because it is quiet. You'll find that there are some really good schools here, and you aren't far from Retiro Park. But of course this means that the cost of property here is high.
2. Retiro
Located to the south of Salamanca, this neighbourhood is very much like it. What makes this place so special and family friendly is it being so close to a large park. Not only great for walks, but the perfect place for kids to let off some steam. Doesn't have such great transport links as Salamanca does. But property prices are cheaper here than in Salamanca.
3. Conde de Orgaz
This particular neighbourhood is situated away from the centre of the city. But you'll find that this area has a very strong expat community established within it.
4. Arturo Soria
This is a neighbourhood particular favoured by professionals who work in the North Eastern areas of the city. There are a number of private and semi private schools situated here. Plus it also offers you easy access to the airport, perfect for when family decide they want to visit.
5. Puerta de Hierro
This neighbourhood is located at the very edge of the city's boundary. But it sill offers could transport links into the centre of the city. You'll find that unlike other parts of Madrid, the properties here are modern in design. But it is also a more exclusive environment, offering lots of peace and tranquility.