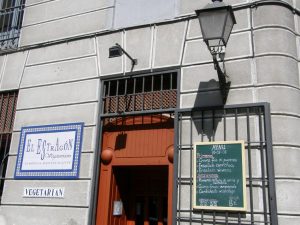 As well as being hearty, traditional Spanish food mainly comprises meat or fish. So for those vegetarians among us when you travel to Madrid finding food you enjoy can prove challenging. That is unless you know where to go.
During the past few years in Madrid we have begun to see some great vegetarian restaurants opening their doors. Below we have chosen our favourites and which we recommend you try when you visit.
El Estragon
You'll feel completely at home as soon as you walk through its door. Situated in the city's Latina area, you have the option of either dining in our outdoors. The menu has a national feel to it with dishes such as paella and gazpacho on offer. Plus it also has some great international designed dishes available. Definitely give their couscous with curried vegetables a try.
Yerbabuena
You'll find this particular restaurant located in the heart of the city. It is just a short walk away from Puerta del Sol. The dishes on offer here are much more creative but taste wonderful. The atmosphere may not be as comfortable as El Estragon, but you'll still love it. Each week the regular menu choices are supplemented by those on the specials board.
Viva La Vida
Like El Estragon this vegetarian restaurant is situated in Madrid's Latina area. This restaurant is perfect for lunch where you can sampel their amazing buffet. With such a great selection of dishes to choose from, be careful! This is because the weight of the plate with food on it determines how much you pay.
Abonavida
You'll find this restaurant located on the other side of the Puerta del Sol. It is located in the very heart of the Chueca area of the city. Again like Viva La Vida this is the perfect place to stop for lunch. As part of a organic and fair trade shop, don't be too surprised to see its products as part of the ingredients in the meals served. Plus the names of the dishes will have you conjuring up all sorts of images in your mind. Why not try "A Walk In The Woods" or "Life Is What You Make Of It."

La Isla del Tesoro 
This restaurant has in fact got two locations in the city where you can sample its menu. Both of which offer creative high quality dishes that have an international flavour to them. The menu del dia (daily menu) is available for just €9. Plus they offer a good selection of ecolgical wines as well as natural beers for you to try. As for their restaurant located in Madrid's main station (Atocha) they offer tapas here. You really couldn't ask for more.
El Granero de Lavapiés
This is one of Madrid's oldest vegetarian restaurants and offers simple home made dishes. On offer as such delights as vegan paella or lasagne. As for those of you with a sweet tooth we recommend giving their banana smoothies or tiramisu a try. Be aware that this restaurant can get quite busy, so we suggest you arrive early.