It shouldn't come as any surprise to you that the residents of Madrid love a drink or two. Yet their palates are quite varied as they enjoy more alcoholic drinks in the evening to soft and sweet ones in the afternoon. When it comes to visiting Madrid you'll find yourself spoilt for choice when it comes to drinks. However, you might want to try some of the ones that we mention below during your stay in this amazing and lively city. But be careful, and drink responsibly.
Sangria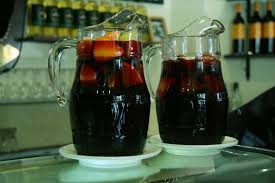 This is a drink that anyone who has visited Spain before will have come across. It is typically saved for more special occasions rather than day-to-day drinking, but is often sampled by tourists and visitors to Spain. The best ones should be made using red wine along with some brandy and some aged fruit. But you may want to consider trying a much lighter modern version where the red wine is replaced with white one. Typically expect to pay between €3 and €4 per glass for this.
Mojitos
Originally from Cuba, this drink is a combination of rum, lime, mint, sugar and soda water and is very tasty. But because it goes down so well you may find yourself drinking more than you should. Cost wise you may find that it is a little more expensive than sangria. Today it is a common cocktail that nearly every bar and club in Madrid serves.
Related article: Pour Me a Gin Tonic
Caña

This is a small cerveza (beer) that bars throughout Madrid and Spain offer. It is likely to be the cheapest drink you'll find. On average, expect to have to pay between €1-€2 for such. Often, you'll find that this is what madrileños like to drink with their meals rather than wine or sangria. In fact, in quite a few bars once you order such a drink you'll find that you get served some tapas as well. Some of the most popular cervezas in Madrid are Mahou (the official beer of Real Madrid), Alhambra, Estrella Galicia and Cruzcampo, to name a few.
Tinto de Verano
Not every bar or restaurant in Madrid offers sangria, as it is saved for certain occasions, but will have a similar drink that, like sangria, it is a wine based drink. Tinto de verano is simply wine mixed with a kind of carbonated lemonade known as Gaseosa. As there is no addition of brandy in this drink you'll find that it doesn't cost as much as sangria. In fact, this is another drink that those who live in Madrid love to enjoy – it is highly refreshing and is drunk year-round by locals.
Related article: Finding the best mojito in Madrid 
Horchata
This is something that you may not have heard of or tried before. It is a drink made from rice milk and cinnamon and is often made using tiger nuts. When you drink it along with fluffy churros you'll find it is like a dessert all by itself. It may be quite sweet tasting but is also very refreshing. It is the perfect thing to enjoy on a hot summer day in Madrid as it will quench your thirst quickly. Often such drinks sell for between €2 and €4. Horchatería Alboraya, located at Calle Alcala 125, is known for having some of the best horchata in Madrid.