Whether you are on vacation and enjoying the beach apartment in Madrid or are looking for a great outdoor activity, rollerskating in Madrid can provide either a leisure activity to see some of the city's greatest sites or physical workout enjoying the beautiful weather. Before strapping on a pair of in-line or quad skates learn some differences on indoor or outdoor skating and between in-line and quad skates.
Related article: BiciMad – Madrid's public bike service
Rolling in Madrid – Outdoor Skating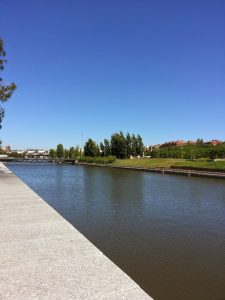 Most people can understand that there can be large differences between indoor and outdoor skating and by being aware of these differences can make your outdoor skate more enjoyable and safe. The first thing you want to remember is that outdoor skating is much more dangerous than indoor. Not only do you have to deal with and even surfaces, rocks, potholes, curbs and other natural obstacles but there are also moving people, bicycles and even cars that could make a very dangerous trip. It is best not to skate in high-traffic areas, such as on streets or sidewalks. Instead, decide to find a large park such as Buen Retiro Park, which already has a number of leisure trails and is popular with skaters. In order to stay safe, be sure to gear up wearing knee and elbow pads as well as a helmet. Although you may look silly and receive stares, it is better to get up from a fall unscathed and enjoy your day then worry about what other people think. Whether you are bringing your own skates or renting ensure that they have quality outdoor wheels that are more forgiving in outdoor terrains than indoor wheels.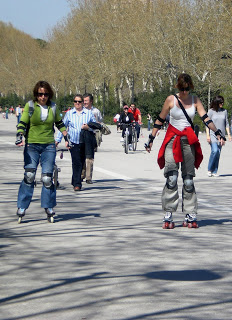 If you have skating experience using in-line or quad skates it is best to stick with that experience when moving to outdoor skating. It is much more difficult to skate outdoors, keep your balance and navigate the many obstacles. Learning new techniques by switching styles is ill advised. Understanding the general area where you will be skating is also a better option to ensure your own safety by being aware of the possible obstacles on the route and where you are going. The other aspect is making sure that your equipment is up to the rigors of outdoor skating. The most common is ensuring you have safety equipment and wheels as stated above, but it can also mean buying special wheels where the bearings are encased to protect them from dirt and moisture. If you plan on renting skates, ensure they are in good working order before leaving the store.
Related article: Where to buy your new bicycle in Madrid
The best option for beginners and tourists seeking to rollerskate in Madrid is to visit one of the many outdoor parks and simply take a leisurely stroll. If you are looking for a physical workout, Buen Retiro Park is big enough to offer enough space for a safe environment with enough pathways to get your heart rate up. However, if you are an experienced outdoor skater you may want to follow some of the more popular bike paths through the city that may include street or sidewalk skating. You can find many of those pathways here.